In songs and interviews, Jay-Z has discussed the ubiquity of drugs he saw while growing up in Brooklyn in the 1980s. The streets of
New York
were rife with illicit substances, and Jay-Z saw evidence of crack use everywhere. "You look out in the puddles on the curbs — crack vials are littered in the side of the curbs," he told Vanity Fair in 2013. "You could smell it in the hallways, that putrid smell; I can't explain it, but it's still in my mind when I think about it." Despite his repulsion, Jay-Z began selling crack in the 1980s. When asked if he felt guilty for contributing to the crack epidemic, he expressed regret. "Not until later, when I realized the effects on the community," he said. "I started looking at the community on the whole, but in the beginning, no. I was thinking about surviving. I was thinking about improving my situation. I was thinking about buying clothes."
"A lot of times, music is a way to communicate the existence of a culture. And [rap artists] often use their music to communicate and cope with the reality of that culture and the community they grew up in."
Beeson says these artists may refer to substance use in their music because it once was their reality. They may not have participated in drug use or heavy drinking prior to experiencing fame, but they were surrounded by these behaviors growing up. "A lot of times, music is a way to communicate the existence of a culture," said Beeson. "And [rap artists] often use their music to communicate and cope with the reality of that culture and the community they grew up in." Rapper 50 Cent was exposed to drugs while living in the borough of Queens in
New York City
. His mother was a drug dealer and died when he was eight years old. Four years later, while living with his grandmother, he began selling crack. He was arrested for selling cocaine to an undercover officer at age 19. Like numerous other rappers, 50 Cent writes his experience selling drugs into his music. In "Corner Bodega," he raps about his life as an interstate drug trafficker, and he spoke of his interactions as a cocaine dealer in "Ghetto Qu'ran." Denny Kolsch, an Orlando-based mental health counselor who specializes in addiction and mood-related disorders, says that socioeconomic factors may be another reason African-American rappers allude to drug use in their music. "Being marginalized in society creates a massive barrier of entry into being a fully functional member of society," Kolsch told DrugRehab.com. "I'd say the reason for rappers' emphasis on drugs extends into the black community's history of being marginalized."
Marijuana and Rap Artists
The UC-Berkeley study found a shift in the social context of drug use in rap music in the early '90s. Although many rappers in the 1980s warned of the dangers of drug use, a new wave of rap artists in the 1990s associated drugs such as marijuana with creativity, wealth and social status. Derived from the dried flower of the cannabis plant,
marijuana
is a drug often used for recreational purposes. The active ingredient in the substance is THC, a psychoactive chemical that produces pleasurable effects.
Since the '90s, countless rappers have portrayed smoking cannabis as recreational activity with therapeutic benefits. One of the first rap artists to celebrate marijuana use was Cypress Hill, whose 1991 debut album included "Stoned Is the Way of the Walk" and "Light Another."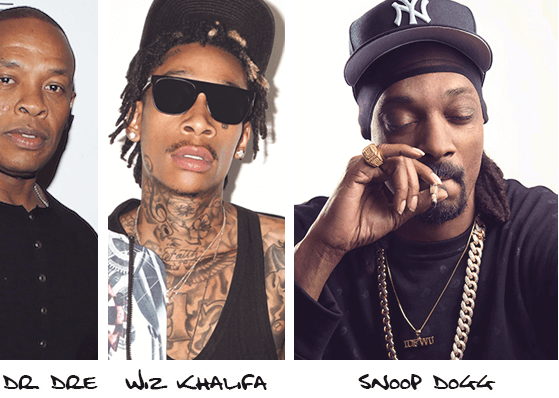 Around this time, rap songs praising marijuana use began to experience commercial success. Then other rappers, including Dr. Dre, started positively portraying smoking cannabis in their music and during interviews.
Since the beginning of his career, Snoop Dogg has made references to getting high in a collection of songs. One of his most successful tracks, "Gin and Juice," includes lyrics about smoking "indo," a slang term for marijuana.
He has been a vocal supporter of the legalization of marijuana and has spoken candidly about his affinity for the drug. In 2015, he launched Leafs by Snoop, a line of marijuana strains. The following year, he began producing a show for MTV about two snake people who run a marijuana-delivery business.
However, Snoop Dogg, Dr. Dre and other rappers who have glamorized marijuana use often fail to mention its consequences. Short-term side effects of cannabis use include memory loss, hallucinations and psychosis. Long-term use of the drug has been linked to temporary paranoia, suicidal thoughts and worsening of symptoms of
schizophrenia
. Despite its health risks, marijuana continues to be championed by rappers today.
Xanax, Ecstasy and Codeine Celebrated in Rap Community
In the 2000s,
Xanax
, ecstasy and codeine pervaded rap culture.