Drug Abuse Trends in New York
Heroin, prescription drugs, cocaine and marijuana were the top drug threats identified by law enforcement in New York in 2015.
Opioids, including heroin and prescription pain relievers, have contributed to growing numbers of drug overdose deaths during the last decade. The number of heroin deaths in 2014 was 25 times higher than in 2005, and the number of annual prescription opioid deaths quadrupled during the same time frame.
Prescription opioid deaths totaled 1,008 in 2014, and heroin deaths accounted for 825 deaths that year. Since 2006, the rate of heroin overdose deaths in New York has exceeded the national rate. Numerous counties have also reported increasing numbers of fentanyl-related deaths.
SUBSTANCE USE IN THE PAST MONTH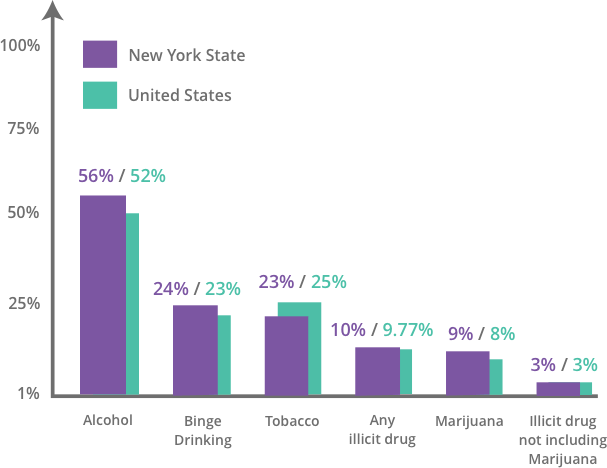 2013–2014, Use of Various Substances in the Past Month, Ages 12 and older, New York
SUBSTANCE USE IN THE PAST YEAR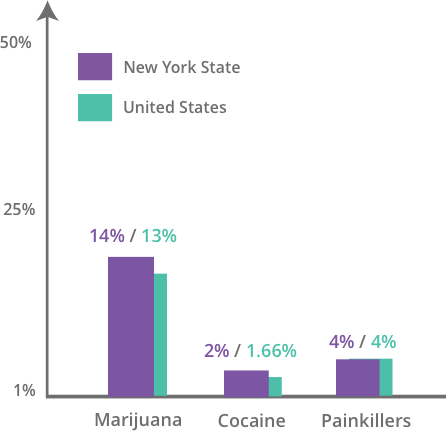 2013–2014, Use of Various Substance in the Past Year, Ages 12 and older, New York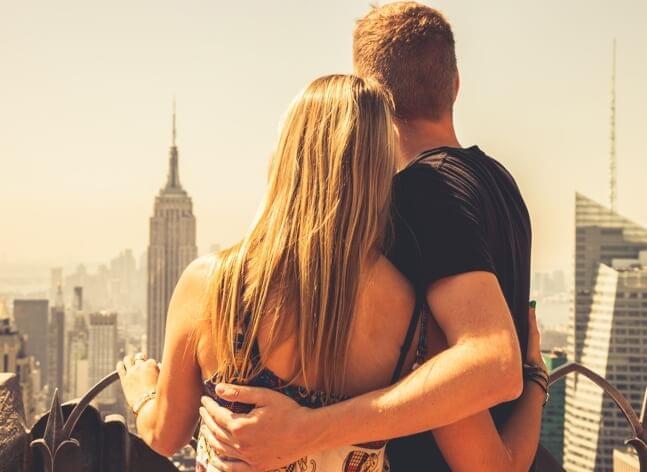 New York Youth Survey
Similar to national trends, alcohol, tobacco and marijuana are the most common substances of abuse among New York high schoolers. About half of New York teens who report drinking alcohol say they binge drink. Electronic vaping products are also more popular among high schoolers than traditional tobacco products.
In most categories, boys are more likely than girls in New York to use substances of abuse. However, high school girls are more likely than boys to drink alcohol regularly.