Many nurses do not admit their substance use disorders and fail to self-report. They may fear disciplinary action and lingering career repercussions.
Loyalty is also a factor. Many nurses form strong friendships with one another, making it easier to ignore substance abuse among colleagues. Some RNs choose not to report drug abuse for fear of their colleagues being reprimanded.
As a result, they ignore the issue — even when a patient's health is compromised.
Nurses with substance use disorders can be a financial burden on some organizations. They may use their health benefits more often, fail to show up for work or perform poorly. They are also prone to making medical errors.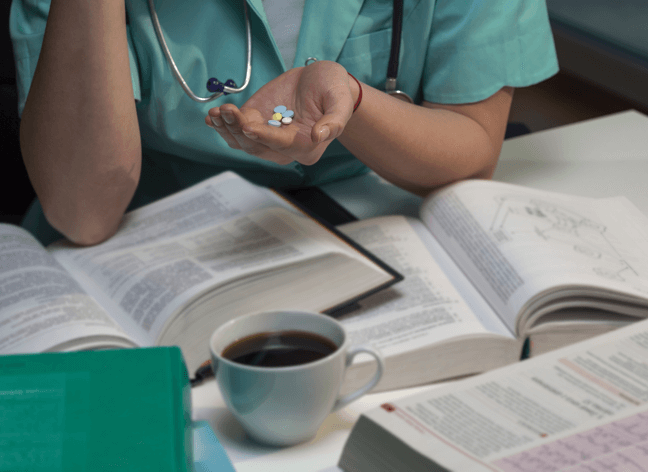 Addiction treatment for nurses
A majority of state boards of nursing offer nondisciplinary programs for those struggling with addiction. Many hospitals ignore substance abuse for numerous reasons. However, these programs, along with treatment, have proved to be effective in reducing substance abuse.
Atmosphere of Silence
Because many nurses fail to report substance use disorders, an atmosphere of silence is created.
Some hospitals deny the existence of substance abuse among their workers. Administrators may address the issue behind closed doors and fail to report the situation. Nurses in these situations often move on to new jobs without treating their disorders.
Looking for help?
We have programs designed specifically for nurses.
This extends the nurse's addiction problems and worsens their symptoms.
The trend is beginning to change, thanks in part to the existence of employee assistance programs, employer-sponsored benefit programs intended to assist employees in resolving personal problems. EAPs offer confidential assessments, counseling and referral services.
Getting Help
Many state boards offer alternatives to discipline programs for RNs who demonstrate signs of impairment.
Comprehensive support programs are available through peer assistance services. These initiatives are intended to help nurses overcome drug or alcohol abuse.
Peer assistance programs often provide:
Comprehensive evaluation, case management and drug monitoring
Education related to the effects of substance abuse
Support for supervisors and family members
More states are recognizing the issue. In 2014, New Hampshire passed a law that requires hospitals to establish procedures for prevention, detection and resolution of substance abuse in the workplace.
The ANA also offers the Impaired Nurse Resource Center, an online repository of information and resources related to substance abuse that helps nurses identify alternatives to discipline and peer assistance programs.