May 5, 2017
The state of Florida and Orange County hosted a workshop on opioid abuse on May 2 to address the opioid and heroin epidemic currently plaguing the state.
The workshop featured a panel with state and local leaders, including Orange County Mayor Teresa Jacobs, Florida Surgeon General Celeste Philip and Orange County Chief of Corrections Cornita Riley.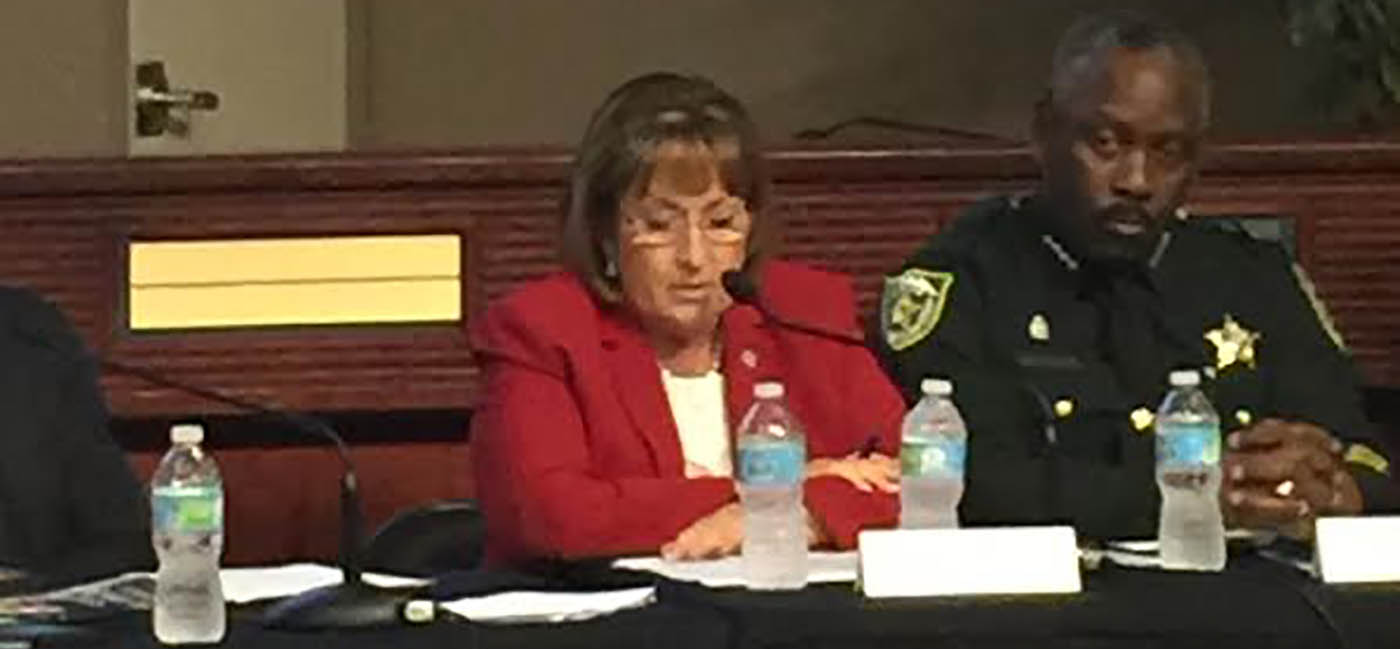 "This is a crucial issue to Orange County as we continue to aggressively confront the deadly presence of heroin and other drugs in our community," Jacobs said during her opening remarks for the workshop.
A total of 22 panelists addressed the near-capacity crowd in the Orange County Board of County Commission Chambers.
Panelists discussed a number of opioid-related subjects, including emerging trends and the steps community leaders and law enforcement are taking to respond to the epidemic and educate young people about the dangers of opioids.
"I don't think in my time in public office I've seen a threat so pervasive as the threat of heroin and opioids," said Jacobs.
Don Ladner, assistant commissioner of the Florida Department of Law Enforcement, noted that the opioid landscape in Florida is always changing. Police throughout the state are seizing new forms of opioids not seen before as drug dealers and traffickers find new ways to market their drugs.
"We have organizations, groups that are bringing heroin in, fentanyl," Ladner said. "We're also dealing with carfentanil."
He said that traffickers are branding their opioids as prescription drug alternatives to gain more customers.
"They're packaging this and marketing this as prescription drugs or as a substitute for that. We're seeing heroin for the first time in pill form," said Ladner.
He believes that the opioid epidemic is not a problem "you can arrest your way out of." The key to combating the spread of opioids, he says, is to provide treatment to those who need it and to stop illegal drug trafficking.
The Orange County workshop was the third of four opioid workshops being held throughout the state of Florida. Workshops have also been held in Palm Beach, Manatee and Duval counties.
Sheriff Jerry Demings Describes Rise in Opioid Overdoses
Orange County Sheriff Jerry Demings, one of the workshop panelists, spoke at length about how opioids and heroin are affecting Central Florida and how local law enforcement has responded.
"This is an issue that here within Orange County we have really been proactively monitoring now for the past three and a half years," Demings said. "We recognize an increase in the number of times that we are responding each day to overdose calls for service."
He added that overdose service calls in Orange County increased during the first quarter of 2017 compared to the same timeframe in 2016. According to Demings, the Orange County Sheriff's Office is responding to an average of two to three drug overdose situations every day and has responded to 224 overdoses in the first three months of 2017.
"When you put that in perspective to the previous year and during the first three months of 2016, we responded 154 times, so in 2017 the number of times that we've responded to overall drug overdoses is up 45 percent," said Demings.
Demings said that heroin is the main cause of the increase in overdoses and has contributed to a rise in opioid deaths in unincorporated Orange County. Since February 2016, he said the Orange County Sheriff's Office and the Orlando Police Department have revived 80 people from a heroin or prescription opioid overdose using the opioid overdose antidote naloxone.
Learn about drug trends in Florida
Millions of Floridians are dependent on alcohol, methamphetamine, opioids, heroin, or cocaine.
Read More
Prevention and Support
The workshop panel also included executives from Orlando Health, the Substance Abuse and Mental Health Services Administration and the Florida Department of Children and Families.
Panelist Dr. Tom Hall, director of substance abuse prevention education, treatment and recovery services at the University of Central Florida, spoke about the UCF Collegiate Recovery Program, which opened in 2016.
"In July of [2016], UCF implemented the heroin task force recommendation of creating a permanent collegiate recovery community on our campus with dedicated space," Hall said at the workshop. "I'm proud to say our students in recovery now have a designated space to study, to socialize and to attend support group meetings and recovery coaching, which is vital to the success of this very important population."
Carol Burkett, director of Orange County's Office for a Drug Free Community, unveiled the future launch of Heroes Against Heroin, a website dedicated to raising awareness about heroin and preventing the spread of the deadly substance. The website offers resources for those struggling with heroin or opioid abuse and provides information about overdose prevention.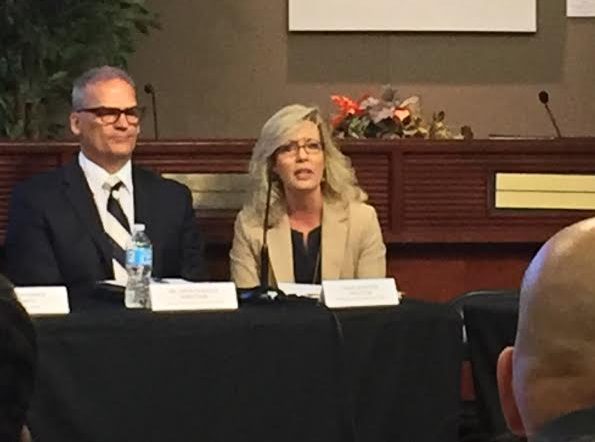 "We know reaching our youth at an early age [is important]," said Burkett. "It starts with the misuse of prescription drugs. It's not heroin use we're seeing, it's the misuse. If we can start that conversation earlier, if we can dispose of prescription medications, if we can lock our meds and get that message [across], then we can have such an impact and difference."
Community Responds with Addiction Concerns
Near the conclusion of the workshop, members of the community were given the opportunity to address the panel and voice their concerns about how opioids and addiction are affecting Central Florida.
A handful of community members expressed the need for more sober living environments for people transitioning from treatment to life in recovery. Marvin Lilly, a partner and co-owner of Mind, Body and Soul Recovery Housing, said that more funding is needed to provide sober living homes and post-treatment support.
"It's a fact that when a person leaves treatment and doesn't have a safe place to go, they relapse at an alarming rate," said Lilly. "Vivitrol and all these things are great, but if they don't have a safe environment to go to and they return to the same environment, they relapse at a rate of about 90 to 95 percent. … I'm here to start the conversation about sober living and how important it is in this process."
Some community members praised panelists for the work they have done to combat opioid abuse. Others expressed frustration, saying that the work panelists have done thus far is not a strong enough response.
Kendra Jowers, an attorney who works in the treatment industry, called the sessions "community theater." She said Florida Gov. Rick Scott should declare a state of emergency in response to the opioid epidemic.
Gov. Rick Scott Declares Public Health Emergency
The day after the workshop, Scott declared a state of emergency as a result of the opioid epidemic. He also announced that Florida will receive a $27 million federal grant to combat opioid abuse.
The grant will fund opioid prevention, treatment and support services throughout Florida. Approximately $17 million will go toward medication-assisted treatment for substance use disorders and counseling for people who have difficulty accessing treatment.
Medical Disclaimer:
DrugRehab.com aims to improve the quality of life for people struggling with a substance use or mental health disorder with fact-based content about the nature of behavioral health conditions, treatment options and their related outcomes. We publish material that is researched, cited, edited and reviewed by licensed medical professionals. The information we provide is not intended to be a substitute for professional medical advice, diagnosis or treatment. It should not be used in place of the advice of your physician or other qualified healthcare provider.
Author

Trey Dyer is a writer for DrugRehab.com and an advocate for substance abuse treatment. Trey is passionate about sharing his knowledge and tales about his own family's struggle with drug addiction to help others overcome the challenges that face substance dependent individuals and their families. Trey has a degree in journalism from American University and has been writing professionally since 2011.
View Sources
---