Rehab or Jail
When Lonny was 23, he was using cocaine every day. He was living with his girlfriend but hid the fact that he used cocaine at all — let alone daily.
Eventually, his girlfriend found out about his cocaine use disorder and kicked him out of her place. Lonny became homeless.
His car was repossessed a week later. He was staying with his friend and had nothing but a skateboard and a bag of clothes. After his friend grew tired of housing him, he was back on the streets.
While Lonny's mom was away on vacation, he broke into her apartment so that he could have a place to sleep and shower. A book of checks came in the mail while he was squatting there.
"I started writing those like they were mine, and that was the beginning of the end," he said. "I wrote about $3,000 worth of checks that my mom did not have any money to pay and waited for her to come home from vacation to tell her what I did."
When Lonny told his mom what he had done, she gave him two choices. "She said, 'You can check into a rehab or detox place, or I'm going to prosecute you for fraud.'"
Lonny, realizing that one option was clearly better than the other, decided to give treatment a chance.
On March 22, 1988, he checked into a state-run treatment facility in Orlando. It was $50 to be admitted to the detox center.
While sitting in the parking lot, Lonny's mom handed him $50 to pay for the detox admission. He made his mom go in with him and give the money to treatment staff to make sure he did not take it and run off to buy drugs.
Lonny says that it was a blessing he did not have any money when he went into treatment. "I think if I'd had more money, I would have probably died."
He says he had not slept for almost 10 days leading up to his admission. After a few days adjusting to the treatment facility, Lonny realized that being there was not just something he needed to do because his mom wanted him to be there.
"I realized that all the stuff that they were talking about in the detox place was me," he said. "I knew that everything we were reading in the Big Book and reading in the NA text … was me. There was no denial left at that point. It was the Lonny book."
Lonny says that the directors and staff at the treatment center were remarkable people who were truly helping those with substance use disorders turn their lives around. He says he owes his life to those individuals today.
They made it clear to Lonny that the treatment he was receiving was a privilege, not a right. He made sure to do what they told him while he was recovering from his substance use disorder.
"They had a zero-tolerance policy there. I was there on their dime," said Lonny. "They would put your stuff in a bag, and you were right back to where you came in [if you didn't listen to them]."
"I made the decision that no matter what happened in my life, I was going to do whatever they told me to do."
Lonny put his trust in the staff at the facility. He knew they were there for him and would support him as long as he was willing to work on his recovery.
"I made the decision that no matter what happened in my life, I was going to do whatever they told me to do," said Lonny.
Nine months later, Lonny left the treatment center's halfway house. Since March 22, 1988, Lonny never used a drug or drank again.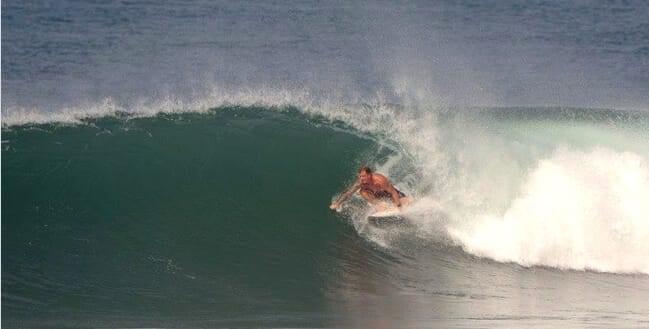 Building Recovery
Sobriety brought Lonny clarity. He was able to reflect on his actions while he was using and see his behavior with open eyes. More importantly, sobriety showed Lonny his own character.
"The biggest thing I realized was that I was a sick person trying to get well, not a bad person trying to get good," said Lonny.
He saw that drugs and alcohol made him do things that were out of his character. His choices to steal and break into his mom's home stemmed from his substance abuse.
"The first two weeks that I was in detox and treatment, they would take us in a van to go meetings, and I would cry the whole way to the meeting and the whole way home knowing the shit I had done to my mom and the hell that I had put my family through," he said.
He vowed to never go back to that way of life.
"The biggest thing I realized was that I was a sick person trying to get well, not a bad person trying to get good."
For the first five years of his recovery, Lonny worked on himself. He did not spend time with his brothers or friends because they all used drugs or alcohol.
Lonny knew he needed to distance himself from that environment, so he created a lifestyle for himself that was supportive of his recovery.
During that time, the 12 Steps of Narcotics Anonymous became critical to Lonny. Going through the steps kept him honest. The steps provided a strong foundation for him to build his recovery on.
In his first two years of recovery, Lonny chaired an NA meeting during his lunch break every Tuesday and Thursday. The consistency of that meeting was crucial for Lonny and created a support system for him.
He still practices the steps today and says that no matter where he is, NA always provides the support he needs for his recovery.
"I've been to sunrise meetings in Hawaii on the beach. I've been to Indonesia and Costa Rica and Mexico. I've been to meetings in languages that I didn't have any idea what they were talking about, but I was right where I needed to be," he said. "I was right at home."
NA showed him that no matter what happened in his life, there was never going to be a reason to use drugs or alcohol. Lonny saw that his emotions did not determine whether he used or not.
"Dog left; I got high. Dog came home; I got high," he said. "I felt great and felt bad and used both times."
He knows that life is not always perfect. He knows some days are not great. He also knows that no matter how well or bad his life is going, using drugs or alcohol is not an option.