June 22, 2017
Weeks after being charged with driving under the influence in Jupiter, Florida, Tiger Woods checked into an inpatient rehabilitation facility. In a June 19 tweet, Tiger wrote that he was "receiving professional help" to manage back pain, a sleep disorder and the drugs he'd been prescribed.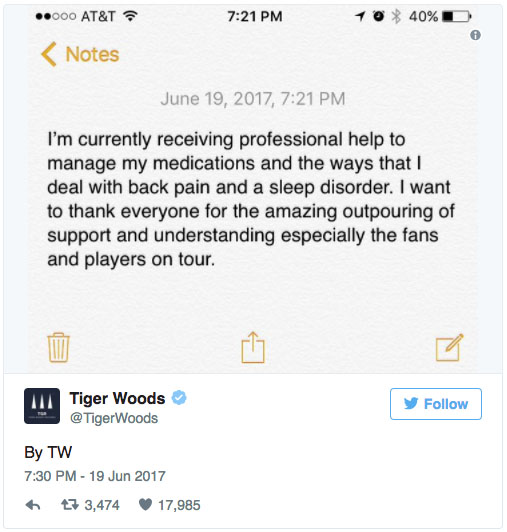 Around 2:45 a.m. on the morning of May 29, Woods was found asleep behind the wheel of a car that was pulled over on the side of the road. The right blinker of his black Mercedes was on, and an officer from the Jupiter Police Department had to wake the professional golfer up, according to an arrest report.
Woods failed a field sobriety test but registered a .000 BAC on a breathalyzer test. His speech was slurred, and he told the officer that he didn't know where he was or how far he was from his house. He explained that he had taken prescription drugs. Woods was arrested on suspicion of driving under the influence, per the report.
The golfer was booked into the Palm Beach County jail at 7:18 a.m., and he was released at 10:50 a.m. on his own recognizance, according to The Associated Press. In a statement released later that day, Woods apologized for the incident.
"I understand the severity of what I did and I take full responsibility for my actions," Woods said. "I want the public to know that alcohol was not involved. What happened was an unexpected reaction to prescribed medications. I didn't realize the mix of medications had affected me so strongly."
Woods went to rehab for 45 days in 2010 after a public falling out with his wife. The National Enquirer and other media outlets reported that Woods attended an inpatient facility in Arizona to treat addictions to Vicodin, an opioid painkiller, and Ambien, a sleep medication. Media reports also claim that he received treatment for sex addiction at a Mississippi rehab facility.
The golfer's most recent substance use issues appear to stem from chronic pain related to the numerous surgeries that he's received throughout his life. His agent, Mark Steinberg, told The Associated Press that pain medications were the only way for Woods to function after surgery.
"I'm proud of him," Steinberg said. "He's going to get himself right to be able to essentially lead a healthy lifestyle."
How Surgeries and Back Pain Contributed to Tiger Woods's Arrest
One of the most decorated golfers on the PGA Tour, Woods has competed professionally for more than 20 years. Since turning pro in 1996, he's won 79 PGA Tour events, 40 European Tour events, and 14 major championships.
The decades of competition took their toll on the golfer's health, though. By 2008, Woods had undergone four knee operations. His back became the main source of his injuries in recent years. Since the spring of 2014, Woods has had four operations on his back, according to The Associated Press.
The former top golfer had back surgery about five weeks before his May arrest.
At the beginning of the opioid epidemic in the early 2000s, doctors commonly wrote long-term opioid prescriptions for patients after surgery. The drugs are considered safe for the short-term treatment of pain, but there is no evidence that opioids are effective for long-term pain management.
Woods was reportedly under the influence of Vicodin and Xanax, an anti-anxiety medication, during his arrest. The U.S. Food and Drug Administration has issued warnings against combining the drugs because each drug suppresses respiration, and the combination can lead to overdose and death.
Radar Online broke the story that Woods checked into a Jupiter Medical Center for four weeks of treatment for opioid addiction. However, the golfer's agent downplayed the significance of Woods's medical condition.
"He's been in just immense pain for so very long that taking prescribed medication was a must, just to be able to get up and move," Steinberg said. "I don't think it's fair to say there is an addiction."
Tiger Woods's Condition Is an Example of a Problem that Affects Thousands
Woods's condition can be used to shine a brighter spotlight on widespread misuse of opioids for the treatment of chronic pain. John Daly, a professional golfer who is in recovery from alcohol addiction, told the New York Daily News that he wondered if Woods was addicted to pain pills.
"Knowing Tiger, I doubt it," Daly said. "One, he's too mentally tough, and two, I wouldn't think he would be. But who knows?."
Daly's statement represents a national misunderstanding of substance use disorders. People don't become addicted to drugs because they aren't "mentally tough." Addictive substances change the chemistry in the brain, making it difficult to abstain without professional treatment.
The National Institute on Drug Abuse defines addiction as a chronic brain disease that contributes to self-destructive, compulsive behavior. Correcting the public misconception that addiction is a moral failing has been one of the goals of mental health advocates for years.
Woods can contribute to changing that stigma by being open about his condition and his recovery, if and when he's ready. His story is an example of how using opioids to treat chronic pain can result in life-threatening consequences.
Medical Disclaimer:
DrugRehab.com aims to improve the quality of life for people struggling with a substance use or mental health disorder with fact-based content about the nature of behavioral health conditions, treatment options and their related outcomes. We publish material that is researched, cited, edited and reviewed by licensed medical professionals. The information we provide is not intended to be a substitute for professional medical advice, diagnosis or treatment. It should not be used in place of the advice of your physician or other qualified healthcare provider.
Author

Chris Elkins worked as a journalist for three years and was published by multiple newspapers and online publications. Since 2015, he's written about health-related topics, interviewed addiction experts and authored stories of recovery. Chris has a master's degree in strategic communication and a graduate certificate in health communication.
@ChrisTheCritic9
View Sources
---