The flashing blue lights of a police vehicle can induce anxiety and fear, especially for those who have been drinking. The subsequent process includes roadside tests, court appearances and possible jail sentences.
How Does the DUI Process Work?
A police officer should have probable cause for pulling you over. You may be swerving lanes, speeding or committing other traffic-related violations that indicate impairment.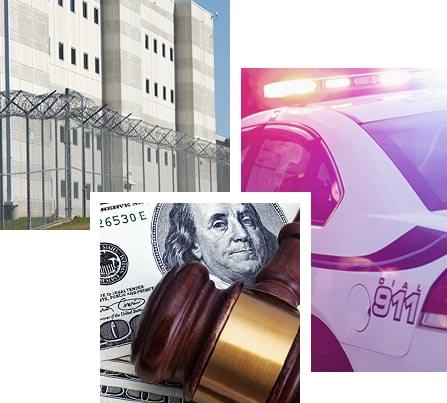 The officer may look for signs of intoxication. Bloodshot eyes, nervousness and the smell of alcohol are indicators. The cop may ask you to exit the vehicle.
If the officer suspects drinking and driving, he or she will ask you to complete a series of field sobriety tests, the most common of which are the one-leg stand, the walk-and-turn and the Gaze Nystagmus, an eye exam.
A preliminary alcohol screening comes next. Each state has implied consent laws allowing individuals to select from a breathalyzer, urine or blood test. The measurement of blood-alcohol content could take place at a nearby hospital. However, you must choose one of the examinations or face a penalty.
If the officer believes intoxication may be a factor based on the tests, he or she will read you your Miranda rights and make a formal arrest.
The booking process occurs at an enforcement station where they take fingerprints, shoot photographs and ask you additional questions. If permitted, you may post bail. Bail is determined based on criminal history and the seriousness of the offense.
"The average person who gets pulled over for a DUI drove intoxicated 400 times prior — 400 times before they got caught."
An arraignment hearing takes place the next morning at a county court. The judge reads aloud the charges and asks whether you prefer to hire an attorney, a public defender or represent yourself.
A preliminary hearing is held 10–20 days later, during which a judge determines if sufficient evidence exists to uphold a charge.
Some states, such as Colorado, conduct a pretrial conference in lieu of the preliminary hearing. Both parties meet to discuss a plea bargain, reducing the severity of the charge. The case must be resolved by plea or taken to trial.
During trial, witnesses and police officers provide testimonies, and cross-examinations take place. The jury deliberates, a verdict is given and sentences are announced. Convictions generally include fines, incarceration, probation, community service, counseling or rehab.
Refusing a Chemical Test
If you are suspected of driving under the influence of alcohol, you must choose between a blood, urine or breathalyzer test. Each test measures BAC. Refusing any exam can be cause for arrest and used against you in court.
The blood test has proven controversial. Some states not only require it, but officers are permitted to forcibly draw a suspect's blood. This is rare, but has happened in cases of serious accidents.
Many believe the procedure violates a person's constitutional rights. Jake Johnson, an attorney at Thomas Pollart & Miller LLC in Greenwood Village, Colorado, is one of those voices.
"My opinion is that this violates your Fifth Amendment right not to incriminate yourself, and there is an appeal on that very issue taking place right now," Johnson told DrugRehab.com.
The case involves three men who were each individually prosecuted or threatened with prosecution for refusing a blood or breath test. They sued police for violating their Fourth Amendment right, which prevents unreasonable search and seizure. Their cases, consolidated as Birchfield v. North Dakota, were eventually taken to the Supreme Court.
In June 2016, the court ruled that police must present a warrant before requiring a blood test. This will affect the 13 states that have criminalized refusal of the test. Suspected drunk drivers can still be arrested for refusing to submit to a breathalyzer.