February 2, 2017
From small-town auditoriums to the Washington Monument, Lexi Reed Holtum has advocated for safe opioid prescribing practices, effective addiction treatment and overdose prevention. She's testified before the Food and Drug Administration, the Centers for Disease Control and Prevention, the Drug Enforcement Administration and the FBI.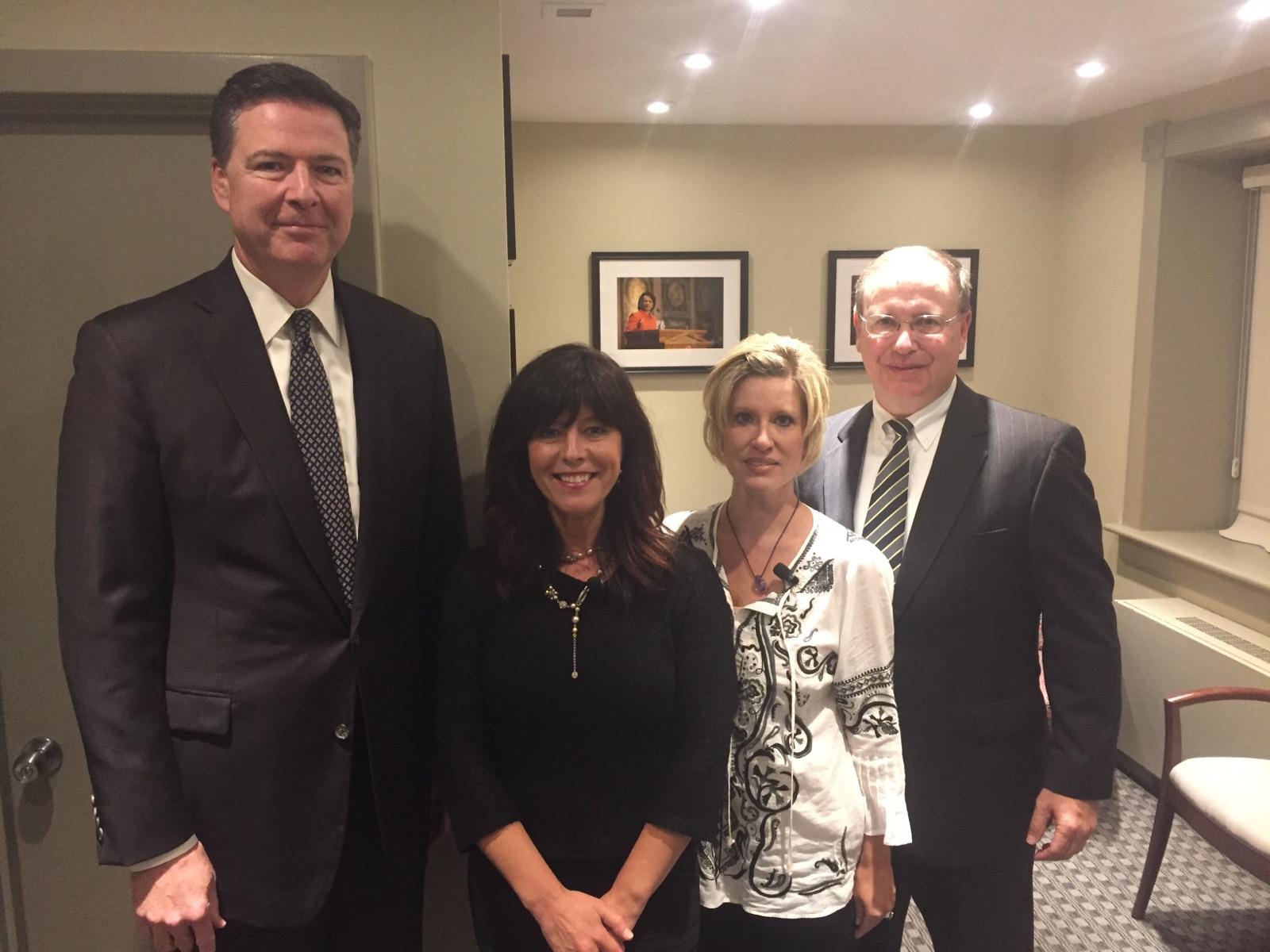 Holtum has helped develop opioid prescribing guidelines and enact laws that can save the lives of people who have overdosed. She's caused change on national and local levels, and she isn't stopping.
For years, Holtum's work helped her process the grief she experienced after her fiancé died of an opioid overdose in 2011. In the months after his death, she became the executive director of the Steve Rummler Hope Foundation.
"I needed to find a way to be able to survive the loss," Holtum said. "I had many reasons to survive the loss of Steve, but my heart was so broken over his death that I needed to do the work of the foundation to be able to walk through my grief."
The work has taken her across the country, from small towns in Minnesota to Washington, D.C. She's talked to doctors, lawyers, therapists and politicians. She's worked with families and friends who have experienced the impact of the opioid epidemic firsthand, and she's brought them all together.
"We are an incredible resource for networking to create solutions amongst all of these national and local (leaders)," Holtum said. "We connect doctors from the Mayo Clinic with doctors from the Hazelden Addiction Treatment Center. We connect treatment facilities with law enforcement to be able to look at the issue from all of these different domains that operate within the opioid addiction world."
From her loss, she's found inspiration to fight for change. She's found motivation to help people with the disease of addiction, and she's making a difference.
A Flawed Health Care System
Holtum and Steve were high school sweethearts who separated after college. They remained friends and reconnected in their early 40s before getting engaged. Holtum and her daughter moved in with Steve. Even though they were in love, she said, neither of them was doing well.
"Part of the journey between Steve and I is that I also am a person in long-term recovery," Holtum said. "We were both actively living in addiction. I didn't understand addiction enough to actually even identify that I had an issue with it until Steve died."
She said Steve began to change, and she didn't like the person he was becoming. The couple had long talks about their futures, but Holtum didn't believe their lives were heading in the right direction.
"Steve was this amazing, loving, generous, successful family man," Holtum said. "Our dreams were to get married, have a child together and expand our family."
But Steve wasn't getting better, and his friends and family began to notice. Alongside Holtum, Steve's friends and family staged an intervention and convinced him to seek help. He completed a 28-day treatment program, but relapsed shortly after he was released.
Holtum believes Steve didn't get the treatment that he needed. He didn't receive a structured aftercare plan, and he didn't have a place to continue to receive help immediately after treatment.
Rummler's addiction to opioids stemmed from chronic pain that he'd experienced for years, and he believed opioids were the only way to relieve his pain. He didn't receive treatment for the illness that caused his chronic pain during his addiction treatment.
A flaw in the system allowed him to pick up prescription painkillers from a pharmacy after he was released from rehab. When Holtum found out that Steve had relapsed, she and her daughter moved out. They urged him to seek help and to stop using.
"I remember actually telling Steve like, 'You can't go on that trip because if you go on that trip, I'm afraid that you're going to die,'" Holtum said. "I remember having those conversations with him, but the reality was I really didn't believe that he was going to die."
Steve overdosed and died in his apartment during the summer of 2011, less than two months after leaving rehab. His family and friends were so devastated that it took a month for them to plan his funeral. During that time, Steve's parents Bill and Judy Rummler decided to create a foundation in Steve's name. Holtum has been by their side as a leader of the foundation ever since.
Creating Change
Holtum and the Rummlers were overcome with sorrow during the early days of the foundation, but they went to work anyway. They didn't know what they were going to do, but they quickly learned that the country was in the middle of a drug epidemic and communities across the nation needed organizations to advocate and create change.
They began to network with doctors, addiction professionals, law enforcement and other community organizations in Minnesota and across the country.
"It quickly became evident to us that not only were we needed but that we had an incredible capacity to be able to facilitate partnerships," Holtum said. "The Steve Rummler Hope Foundation became an incredible resource for networking to create solutions amongst all of these organizations."
During the last six years, the foundation has played an instrumental role in combatting the opioid epidemic on national and local levels.
Through the organization's advocacy efforts, Holtum has spoken to the FDA, CDC, FBI and DEA. She has contributed to changing regulations involving hydrocodone combination products, creating national opioid prescribing guidelines and changing the labels of opioids. She also advocated for the Comprehensive Addiction Recovery Act and the 21st Century Cures Act.
The laws provided funding for prescription drug monitoring programs, research on prevention, expanded access to addiction treatment and safe prescribing training. Holtum has advocated for similar laws on a state level.
Steve's Law
As of January 2016, 32 states had approved Good Samaritan laws and 42 had passed naloxone access law, according to the Drug Policy Alliance. Holtum and the Steve Rummler Hope Foundation led an effort to pass a law that accomplished both policies in 2014.
"It's relatively difficult to pass a good public health and safety law, but we passed Steve's Law unanimously in our state," Holtum said. "Any time we had a legislator who did not feel that they wanted to vote yes, we went to their constituents. We went to their hometown."
The foundation organized families affected by the opioid epidemic in communities across the state to petition their representatives to pass the law.
The law gives limited immunity from criminal prosecution to individuals who report an overdose. It also allows doctors to write third-party prescriptions, meaning a person can purchase naloxone to administer to someone else.
Naloxone is an opioid overdose reversal drug that can save the life of someone who has overdosed. Steve's Law allows any person in Minnesota to carry and administer naloxone if they believe someone is experiencing an overdose.
Educating the Public
Passing Steve's Law was the first step toward making a difference. The next step was implementing it. The Steve Rummler Hope Foundation has led educational efforts throughout Minnesota to destigmatize drug addiction and to raise awareness of Steve's Law.
They've helped secure funding to educate law enforcement about the immunity components of the law so people aren't afraid to call 911 if they are with someone who overdoses.
Holtum and the foundation are also teaching the public that prescription drugs can be addictive. She said that people need to understand that prescriptions opioids are just as dangerous as illicit opioids.
"I think that is the level of communication that we need to have with consumers to get them to understand that what happens in your body physiologically is exactly the same thing if you take Percocets, OxyContin or black tar heroin," Holtum said.
The best way she can educate the public is by sharing her story. She said she's told her story hundreds of times and she'll keep telling it as long as it inspires change.
"The more that do advocacy in a public way, the more we encourage people not be ashamed or fearful of asking for help before it's too late," Holtum said.
Overdose Prevention
One of the Steve Rummler Hope Foundation's biggest programs is designed to prevent overdoses. Holtum has traveled to numerous cities and towns to teach people to recognize an overdose and to use naloxone to save them.
"We had the state determine that we, under Steve's law, met the qualifications to have a doctor write a standing order for the Steve Rummler Hope Foundation to house, train, distribute and administer naloxone to everyone in our state," Holtum said.
The organization works with health providers, drug courts, sober living facilities, first responders and families. They educate them about the disease of addiction and teach them how to use the naloxone kits. The foundation also offers two trainings each month to anyone in the community who wants to learn how to use a naloxone kit.
"I think we distributed like 2,500 kits in the last year," Holtum said. "I don't remember how many trainings we've done, but we sure do a lot of them. If we weren't doing it, it just wouldn't exist."
The Steve Rummler Hope Foundation has partners across the country, but they need more help to raise awareness about the opioid epidemic. Despite its widespread impact, too few people understand addiction and recovery.
"We know there's solutions, and people like me have to be willing to stand up and say, 'I have the disease of addiction and it's possible to recover,'" Holtum said. "Not only is it possible to recover, but it's possible to recover in a way in which you contribute to society in a powerful way that creates change."
Holtum stood up years ago, and she's still standing. She's fighting the opioid epidemic and creating change along the way.
Medical Disclaimer:
DrugRehab.com aims to improve the quality of life for people struggling with a substance use or mental health disorder with fact-based content about the nature of behavioral health conditions, treatment options and their related outcomes. We publish material that is researched, cited, edited and reviewed by licensed medical professionals. The information we provide is not intended to be a substitute for professional medical advice, diagnosis or treatment. It should not be used in place of the advice of your physician or other qualified healthcare provider.
Author

Chris Elkins worked as a journalist for three years and was published by multiple newspapers and online publications. Since 2015, he's written about health-related topics, interviewed addiction experts and authored stories of recovery. Chris has a master's degree in strategic communication and a graduate certificate in health communication.
@ChrisTheCritic9
View Sources
Drug Policy Alliance. (2016, January 25). Which States Have 911 Good Samaritan Laws and/or Naloxone Access Laws? Retrieved from #
Steve Rummler Hope Foundation. (n.d.). Steve's Law Postcard. Retrieved from #
Steve Rummler Hope Foundation. (n.d.). Vision, Mission & Goals. Retrieved from #
---