December 22, 2016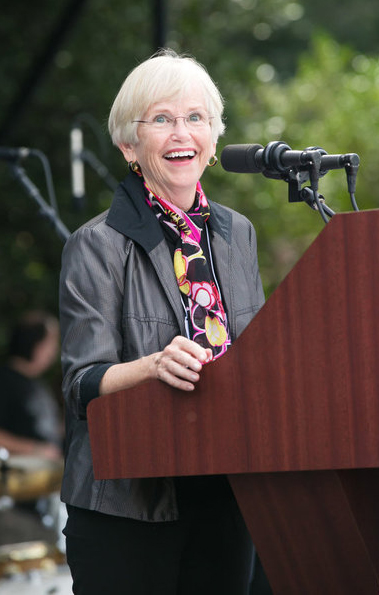 On December 13, Judy Rummler sat in the White House among Congressmen, celebrities and other dignitaries while the president of the United States signed a bill that authorized $1 billion to combat addiction to opioids.
She wore a button with a picture of her son to honor his memory. For years, Rummler had raised awareness about the worst drug epidemic in the history of the nation. She organized rallies, wrote letters to government officials and tried to convince the public and their representatives in Congress that a public health crisis needed immediate and considerable attention.
"It meant a lot to me to be recognized for the work that we've done through the FED UP! Coalition, but it was very emotional," Rummler told DrugRehab.com "In a way, I didn't want to be there because the only reason I was there was because I lost my son. I would much rather not have been there for that reason."
Rummler's attendance at the White House was a culmination of more than five years of work toward preventing families from experiencing what her family went through. The funding of the 21st Century Cures Act is a big step toward combatting an epidemic that has claimed more than 200,000 lives.
In 2011, Judy's son Steve Rummler died from an opioid overdose. He'd been prescribed opioids for chronic pain, become addicted and sought treatment. But the Rummler family believes flaws in the system contributed to his relapse.
Less than a month after his death, Judy Rummler and her husband established the Steve Rummler Hope Foundation to try to fix those flaws. A year later, they partnered with safe opioid prescribing advocate Dr. Andrew Kolodny and Physicians for Responsible Opioid Prescribing to form the FED UP! Coalition.
FED UP! is a coalition of local and national organizations that's chaired by Judy Rummler. The coalition has hosted four rallies in Washington, D.C., that have contributed to regulatory reform and the passage of laws on the local and national level. Rummler's invitation to the White House was a recognition of FED UP!'s efforts.
"I didn't get to shake the hand of the president or anything quite that exciting, but he was right there," Rummler said. "It was a huge turnout of members of Congress that I got to talk to. It meant a lot to see that our work had paid off because we did work hard."
But there is still a lot of work to be done. It will take more time, effort, money and support to stop the epidemic. The Steve Rummler Hope Foundation and the FED UP! Coalition are preparing for 2017. They're developing a variety of goals because the opioid epidemic is a complex issue that must be addressed from multiple angles.
"Today people can't turn on the TV or pick up the paper without hearing or seeing something about the opioid epidemic," Judy Rummler said.
The awareness wasn't as high in 2005, when Steve Rummler was prescribed opioids for the first time. When he died in 2011, the Rummler family wasn't aware of the extent of the epidemic. A lot of progress has been made since then, but there is still a long way to go.
Steve's Story
Steve Rummler's family describes him as a caring person who was enthusiastic, ran marathons and played music. He came from a loving family, and friends say he was a joyful man who loved life.
His life changed one night in college when his friends tried to adjust his back to help him relieve a headache. That night, he began experiencing severe back pain that would cause him to spend the rest of his life searching for pain relief.
"Eventually, he was prescribed antidepressants and benzodiazepines," Judy Rummler said. "Finally in 2005, after he'd been struggling with this for quite a few years, he was prescribed opioids by a very well-intentioned family doctor."
She said Steve's doctor had the best intentions and believed opioids could safely and effectively treat his back pain.
"It wasn't a pill mill doctor," Judy Rummler said. "It was someone who'd been taught by the pharmaceutical industry that these drugs were safe and effective as long as they were being used to treat pain."
Steve felt immediate relief from the pain that had tormented him for years.
"Steve said right away 'Wow these opioids work. My pain is much better.' We were happy because he'd been struggling for so long," Judy Rummler said.
But family and friends quickly noticed that Steve was changing. He was losing interest in things he used to find enjoyable. He became unreliable.
"He'd been a dean's list student," Judy Rummler said. "He'd been a great athlete. He ran marathons. He was a gifted musician. He was engaged to be married. He had seemingly everything going for him until he was prescribed these drugs that just turned him into someone who didn't care about anything except getting the pills."
Steve and his family began to realize that the pills were causing problems. They spoke to his doctor, who referred him to the Mayo Clinic in Rochester, Minnesota. The renowned pain rehabilitation program helped him taper off opioids and learn to relieve pain through cognitive behavioral therapy, exercise and meditation.
"He was there for three weeks," Judy Rummler said. "He came home, and he just had a will to his voice and a sparkle in his eye. He was the old Steve."
Doctors at the Mayo Clinic taught Steve safe ways to relieve pain, but they didn't address his substance use disorder. They told him that he should seek substance abuse treatment, but he believed he could overcome the disease on his own.
"He eventually sought out the pills from a pill mill doctor," Judy Rummler said. "His fiancé said 'You've got to go to treatment or I'm going to leave.' That was in April of 2011."
Steve went to the Hazelden Addiction Treatment Center, one of the top rehab facilities in the country. After 28 days in rehab, his family had a renewed sense of optimism.
"We thought, it's Hazelden; that's the premier place," Judy Rummler said. "He came out and he was great. He overdosed and died 45 days later."
In the past, Steve had been prescribed Norco, a combination of hydrocodone and acetaminophen. When he got out of rehab, he was able to get a refill from a pharmacist because a controversial regulation allowed patients with hydrocodone combination prescriptions to get refills without seeing a doctor. No other opiate-based medication could be refilled as easily.
His mother believes that her son may have used heroin for the first time on June 1, 2011 and that he took the dose of Norco that he used to take before becoming sober. When someone abstains from a drug for multiple days or weeks, their tolerance decreases.
"That's very common for people who go into treatment," Judy Rummler said. "When they relapse, they don't realize how little it takes to overdose."
The Steve Rummler Hope Foundation
Fifteen days after their son died, Judy Rummler and her husband founded the Steve Rummler Hope Foundation. Judy Rummler had chaired boards of other foundations, and she and her husband had both been entrepreneurs during their careers. They didn't know what they were going to do, but they knew they wanted to do something.
"We actually had it in place in time to put it in the obituary," Judy Rummler said. "That was how we first got our funding, from people who knew about Steve."
Judy and her husband got on the internet and began to learn about the opioid problem. They searched for other organizations and influential people to reach out to.
"My husband and I knew very little about addiction, and we certainly didn't know that there was an epidemic," Rummler said. "We saw our son, who injured his back when he was 29, struggle with that and not get satisfactory answers from the medical community for treatment."
The Rummlers learned that Hazelden hadn't offered medication-assisted treatment, which is proven to improve treatment outcomes when combined with behavioral therapy.
"We've since communicated with Hazelden, and they now offer medication-assisted treatment," Judy Rummler said.
She also realized that hydrocodone combination products were Schedule III controlled substances, which meant someone could get refills without visiting the doctor. One of the first major goals of the Steve Rummler Hope Foundation became trying to convince regulators to reclassify the products.
"We realized that that should change because all other opioid drugs are Schedule II," Rummler said. "This had just been a misclassification. One of the first things we did was go to the FDA and get those drugs rescheduled."
During one of her presentations at the FDA, she met Dr. Andrew Kolodny. In 2010, Kolodny had helped found Physicians for Responsible Opioid Prescribing. His group comprised experts from various fields who believed reckless prescribing was the root problem of the opioid epidemic.
"We were both there to try to get change at the FDA, and we realized we were working on very similar issues," Rummler said. "He asked me if I would be interested in chairing an event, the first FED UP! rally, and become the creator of the FED UP! Coalition."
The FED UP! Coalition
FED UP! began as a rally composed of organizations from across the country who were "fed up" by the lack of progress being made by the federal government to prevent opioid addiction and overdoses.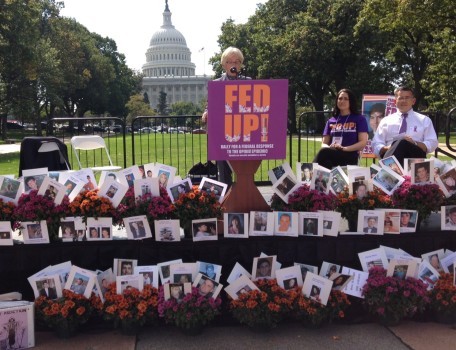 "The thing that makes FED UP! unique is that we are narrowly focused on opioids, not all kinds of addiction," Rummler said. "We're focused on federal action. Steve Rummler Hope Foundation really works in the state of Minnesota, and we have other members of the FED UP! Coalition that do a lot of work at the local level."
She said members of FED UP! have helped increase access to naloxone and pass good Samaritan laws on the state and local level. But when they work together, the groups have been able to make an impact nationally.
"There are things that the federal government has to do in order to bring this epidemic to an end," Rummler said. "That's why we came together to form the coalition."
Several changes to FDA drug labels.
The reclassification of hydrocodone combination products to Schedule II.
Raising awareness about the FDA's approval of Zohydro, a powerful hydrocodone product. The FDA approved the drug even though its advisory council recommended against approval.
The resignation of former FDA Commissioner Margaret Hamburg, who was criticized for the FDA's approval of several opioids and having close ties to the pharmaceutical industry. She resigned in 2015.
Getting President Obama to speak about the opioid epidemic and advocate for congressional action to prevent and treat opioid addiction.
FED UP! has organized four marches in Washington, D.C., since its conception. In 2015, the coalition marched to the White House to petition Obama to speak about opioids and help end stigma associated with opioid addiction.
"When President Ronald Reagan was in his final term, he spoke out about the AIDS epidemic and all of a sudden people's view of AIDS changed," Rummler said. "So we started trying to get President Obama involved in this. The FED UP! Coalition sent letters and we marched on the White House, and a little over a year ago he did start talking about it."
Obama talked about the heroin and prescription opioid epidemic in his 2016 State of the Union address. He requested $1.1 billion from Congress to combat the epidemic. He appointed his secretary of agriculture to fight opioid addiction in rural America, and Obama participated in numerous opioid awareness events.
Through its rallies, FED UP! also began to influence the Office of National Drug Control Policy.
"We developed a relationship with ONDCP Director Michael Botticelli, who worked really hard to get the president to provide leadership for the issue," Rummler said. "We feel we were very instrumental in getting that to happen."
Rummler said she was invited to the White House because Botticelli appreciated FED UP!'s role in helping Obama convince Congress to authorize $1 billion to combat opioid addiction.
A Long Way to Go
One billion dollars is a lot of money. The efforts outlined in the 21st Century Cures Act and Comprehensive Addiction Recovery Act should save lives, but they aren't going to be a miracle cure.
"It's a start. Let's put it that way," Rummler said. "It's not going to bring an end to the epidemic. With the new administration we don't know what's going to happen, but there needs to be a lot more funding for treatment.
"To end an epidemic, you have to take care of the people who already have addiction, but you also have to stop it."
Rummler participated in several of the Centers for Disease Control and Prevention's meetings to establish safe opioid prescribing guidelines. The guidelines advise prescribers to use opioids as a last resort, to prescribe for short-term treatment, to warn patients of the risk of addiction and to develop a plan to discontinue opioid use.
"That's a big step because that'll get doctors to pay attention to how they prescribe these," Rummler said. "That's the root cause, in our view, the overprescribing that leads to addiction."
Even though CARA and the 21st Century Cures Act have a lot of positive aspects, Rummler is critical of other components of the laws. The 21st Century Cures Act makes it easier for the FDA approve prescription drugs by requiring less evidence from critical trials for approval. It allows the agency to use patient anecdotes as evidence for safety and efficacy.
"That may be one of the first things we try to correct," Rummler said. "This is really trying to circumvent the FDA in all sorts of ways. I think we need to be very careful. Drugs that are being approved need to be proven safe and effective before they're approved."
She said she agrees that patients with diseases such as cystic fibrosis or multiple sclerosis should have access to drugs that can save their lives, but chronic pain is rarely a life-threatening condition. Under the new regulations, the FDA can consider the opinions of chronic pain patients when clinical trial evidence isn't sufficient.
"People who take opioids are the most vocal people in support of (easing the approval process)," Rummler said. "I'm sure my son would have wanted access to opioids if it was taken away from him once he became addicted. There are so many people who are out there saying they need their opioids, but I'm sure the people who have died would have said the same thing."
Mandatory prescriber education
Mandatory use of prescription drug monitoring programs
Increased over-the-counter access to naloxone
Making naloxone more affordable
Greater access to medication-assisted treatments for addiction
Eliminating the stigma associated with the disease
Rummler thinks a lot of progress has been made toward reducing stigma. When her son died in 2011, she said very few people knew that addiction was a disease.
"At his memorial service, Steve's fiancé did an awesome job of standing up in front of this well-to-do suburb of Minneapolis and telling an audience of over 400 people that Steve didn't have to die," Judy Rummler said. "He was sick and had a disease. People at that time thought a drug overdose meant suicide. They had no idea that addiction was the root cause."
She said that today people are more willing to tell their stories and its helping others seek treatment.
"A lot of people that do get into recovery go on to live wonderful lives," Rummler said. "But it's just so difficult to get there with opioid addiction."
She and her husband realize the power that her family's story has. That's why she shares it at rallies, at regulatory meetings and in the media. That's one reason why she wore a button with a picture of Steve to the White House.
Judy Rummler doesn't want any other families to experience what her family experienced. The Steve Rummler Hope Foundation and the FED UP! Coalition are willing to work to make change happen. During the last five years, they've helped make a difference.
Medical Disclaimer:
DrugRehab.com aims to improve the quality of life for people struggling with a substance use or mental health disorder with fact-based content about the nature of behavioral health conditions, treatment options and their related outcomes. We publish material that is researched, cited, edited and reviewed by licensed medical professionals. The information we provide is not intended to be a substitute for professional medical advice, diagnosis or treatment. It should not be used in place of the advice of your physician or other qualified healthcare provider.
Author

Chris Elkins worked as a journalist for three years and was published by multiple newspapers and online publications. Since 2015, he's written about health-related topics, interviewed addiction experts and authored stories of recovery. Chris has a master's degree in strategic communication and a graduate certificate in health communication.
@ChrisTheCritic9
View Sources
---