July 31, 2017
Advanced Recovery Systems recently opened The Recovery Village Columbus — the behavioral health care management organization's first treatment facility in Ohio.
The 80-bed treatment center is located 18 minutes from downtown Columbus in Groveport, Ohio. It offers a full continuum of care for substance use disorders and co-occurring mental health disorders. Clients at the facility have access to detox, inpatient and outpatient treatment, an intensive outpatient program, partial hospital programming and post-treatment support services.
The center opens at a critical time in Columbus as Ohio faces a severe heroin and opioid epidemic. According to the Ohio Department of Health, more than 3,000 Ohio residents died of drug overdose in 2015, and most of the deaths involved heroin or fentanyl.
Dr. Kevin Wandler, chief medical officer at Advanced Recovery Systems, says that the center is a step in the right direction to help Ohio reduce the harm of drugs in local communities.
"I'm really excited about the opportunity to come to this state," Wandler told DrugRehab.com at the facility's grand opening. "I think we'll be able to bring a whole new treatment regimen to Ohio."
Wandler says that he is excited about the opportunity to provide high-quality treatment to residents of Ohio who desperately need it.
Tara Woltz, a therapist at The Recovery Village Columbus, echoed that sentiment. She says that the facility provides comprehensive treatment that allows people to heal more than their substance use disorder.
"We use evidence-based scientific models that have been around many, many years and are staples," Woltz told DrugRehab.com. "I think the most important thing we provide is very well-rounded treatment."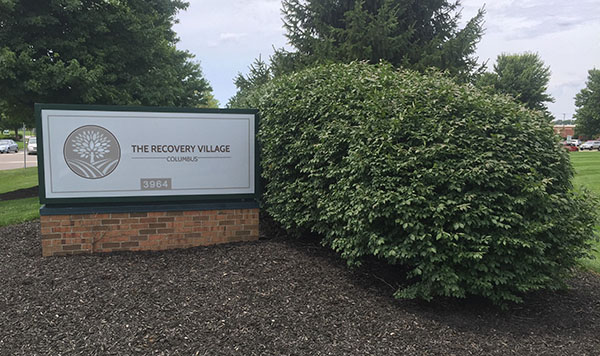 Elite Programing for Recovery Success
The Recovery Village Columbus touts one of the most comprehensive drug rehab programs in the state. The average treatment period is 30 to 45 days before patients move on to outpatient care or a sober living facility.
Most of the center's treatment programs typically begin with medical detox followed by inpatient care. Inpatient treatment programs feature group, family and individual therapy to allow individuals to heal physically, mentally and emotionally.
While treating clients for a substance use disorder, the center staff assesses nutritional needs, vocational opportunities and specific treatment needs.
The Recovery Village Columbus also puts an emphasis on recreational therapy to help individuals establish a well-balanced lifestyle.
"Here at the Recovery Village Columbus, we're going to do a lot of different activities both on and off campus," recreational therapist Olmni Rollison told DrugRehab.com. "Some of those activities include basketball, volleyball and pickleball, which is like tennis. We also have art therapy and music therapy."
Other optional therapeutic activities include yoga, which counselors say is beneficial to those learning to adapt to a life in recovery, according to clinical therapist Emily Wilson.
"We have a yoga instructor that comes Monday through Friday," Wilson told DrugRehab.com. "Someone once told me that the purpose of yoga is to become comfortable in an uncomfortable position. I think that's the same thing for the brain. That's what we're trying to teach people [recovering from addiction]."
Ready to make a change?
Take the first step and start your recovery today.
Get Help Now
The center also offers equine therapy through a contracted specialist, PBJ Connections. According to Holly Jedlicka, executive director of PBJ Connections, equine therapy focuses on establishing a caring relationship between clients and horses to help clients with emotional and psychological development.
"It's a program that follows a specific model of equine-assisted psychotherapy that's very experiential and metaphorical," Jedlicka told DrugRehab.com.
Those who elect to participate in equine therapy attend sessions once a week for six weeks at the PBJ Connections facility, which is located about half an hour from The Recovery Village Columbus.
Jedlicka says that the program gives clients a chance to project their emotions and feelings onto the horses, who give feedback based on the clients' actions and body language. Equine therapy does not involve riding the horses.
A Variety of Recreational Options During Treatment
To make clients feel more at home during their stay, The Recovery Village Columbus offers a recreation room with bumper pool, a pingpong table and a shuffleboard table. Clients also have access to two gyms complete with treadmills, free weights, elliptical machines, stationary bikes and more.
The facility is also planning to add outdoor recreation spaces in the coming months that will feature two basketball courts, two pickleball courts and three shuffleboard courts directly behind the facility.
The Recovery Village Columbus has already welcomed its first clients, and beds are now available for individuals looking for rehab treatment in Ohio.
Author

Trey Dyer is a writer for DrugRehab.com and an advocate for substance abuse treatment. Trey is passionate about sharing his knowledge and tales about his own family's struggle with drug addiction to help others overcome the challenges that face substance dependent individuals and their families. Trey has a degree in journalism from American University and has been writing professionally since 2011.
View Sources
---