September 26, 2016
Each day, individuals around the world participate in addiction recovery support groups. SMART Recovery, an international nonprofit, has become a popular option.
SMART Recovery uses community meetings and online resources to help people abstain from addictive behaviors. The organization supports people recovering from addictions to drugs or alcohol, gambling, sex and numerous other vices.
"Our services are free to anyone in need of addiction recovery from either a substance or activity they are trying to recover from," Christi Farmer, assistant executive director at SMART Recovery, told DrugRehab.com.
SMART offers tools and techniques that address four points rather than the traditional 12 steps.
Build and maintain motivation
Cope with urges
Manage thoughts, feelings and behaviors
Live a balanced life
These goals are accomplished through educational and supportive meetings that teach techniques for self-directed change. The nonprofit uses evidence-based approaches to encourage this change, including cognitive behavioral therapy and motivational interviewing for substance abuse.
Meetings are held online or in groups for people at all stages of addiction. Furthermore, an online message board and chat room provide education and support for those in recovery.
The organization's reach knows no bounds. SMART comprises 1,500 facilitators who lead 2,200 meetings worldwide. Thousands of people use these services each day.
Beyond the United States, SMART offers online and face-to-face sessions in France, Australia, Denmark, Sweden and Hungary. Meetings can also be found throughout Asia.
SMART Recovery Meetings
All SMART meetings are anonymous. Attendance varies by location, but an average face-to-face session features 8–10 people, while an online meeting generally consists of 35 participants. A trained facilitator runs each meeting.
All facilitators volunteer their services. They may be clinicians, social workers, individuals in recovery, family members or community members who want to provide a service to their community. Each volunteer completes 30 hours of online training before facilitating a meeting.
However, SMART is not clinical therapy. Although some facilitators are trained clinicians, they do not diagnose people.
"When they hold a SMART Recovery meeting, they are there as a SMART Recovery facilitator," said Farmer.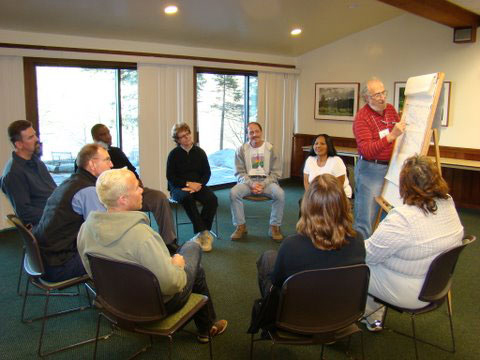 Volunteers facilitate meetings in a setting of their choice, usually one with a private space. Popular destinations include churches, libraries and community centers.
Discussions aim to teach people the importance of self-empowerment and self-reliance. Facilitators may pose a question related to each participant's hobbies or to his or her joys in life. The answers to these questions may motivate individuals to take the necessary steps to fight their addiction, Farmer said.
Facilitators may also ask questions related to specific problems: Why do you think you got that DUI? Does it help when you drink? How do you feel on Saturday mornings after drinking?
These questions trigger thoughts that guide participants through stages of change. In many cases, individuals go on to make better choices in life.
"Our meetings are about self-choice, self-control and self-empowerment," said Farmer. "You decide that you want to make a change. We're there to help teach you the tools to get there."
Meetings comprise a series of open discussion topics. Speakers can voice their successes, which could benefit listeners. During this time, tips are provided, support is offered and, in some cases, friendships are forged.
"It's an encouraging environment," said Farmer. "We don't tell people what to do, but we influence them to hopefully make better choices in their lives."
Who Can Attend a SMART Recovery Meeting?
People who struggle with drug or alcohol abuse
People with substance use disorders
Individuals in recovery
Anyone who feels substance use has created problems in their lives
SMART also offers meetings for youths and teens struggling with drug abuse. These open discussion forums allow adolescents to ask questions, bring up topics associated with addiction and learn tools and techniques to avoid drugs and alcohol. This education often includes how to handle peer pressure.
In some cases, family members of people battling addiction can attend face-to-face meetings. SMART offers Family & Friends (F&F) meetings, during which loved ones can learn the same concepts of using tools to avoid addiction.
"The F&F meetings teach loved ones how to continue to love the person with the addiction while setting healthy boundaries," said Farmer.
The organization has no religious affiliation and makes no reference to a higher power, a contrast to many 12-step groups. People of all religious backgrounds or those with no religious affiliation can attend a SMART meeting or engage with its online resources.
SMART Recovery Testimonials
SMART's website includes numerous testimonials from participants.
One participant explained that the online resources and public meetings through SMART gave him the support he needed to repair his life after alcohol had crippled it. Substance abuse caused a fractured relationship with his family.
He has been sober for eight years and has since mended these relationships.
"A sober life is a better life," he wrote.
Another online participant, Tim, spoke about his struggles with prescription drug abuse. He suffered periodically from back pain and turned to OxyContin, fentanyl and Vicodin for relief. Recreational use gave way to dependence, which led to addiction.
In July 2006, he entered treatment. While searching for aftercare services, he found SMART Recovery.
"Shortly thereafter, I logged in to SMART Recovery online and found a community of people who understood what I was going through and many who had stories similar to mine," Tim wrote.
The meetings, online chats and message boards gave Tim perspective about his drug use. He has also learned to control his urges and stress and to look out for triggers.
"Personally, without SMART … I believe I would either be using again, in the hospital from drug-induced health problems, in prison for drug-related offenses — or dead," he wrote. "I am grateful that SMART Recovery is here to help myself and others who desire to be free of the shackles of alcohol, drugs and problem behaviors."
Peg, another SMART participant, wrote an open goodbye letter to addiction.
As she explained, alcohol was once part of her life. The substance was similar to that of a friend: It was available during tough times or whenever she needed to feel good about herself.
Then her relationships began to crumble, and her family grew worried. In response, she gave up alcohol, joined SMART and learned coping techniques to maintain sobriety.
"So addiction, I say goodbye. I have a lot to live for, and you are not part of it," she wrote. "[I am] so excited about my future. No more lies."
An Underlying Purpose
In some cases, people reluctantly attend SMART meetings at the urging of their loved ones. These individuals may not even speak during a session. However, the lessons distilled may spark positive change in their lives.
Farmer said situations in which an individual attends a meeting under these circumstances arise often.
"There may be a significant problem in someone's life, and they are not ready to see it," she said. "But using motivational interviewing techniques, they can eventually see that they may not be making best choices."
SMART has helped people recognize their problems and seek necessary help. For people with substance use disorders, this assistance may come from substance abuse treatment centers.
The tools and techniques acquired from SMART resources have empowered many individuals to go on to live healthy, addiction-free lives.
"Our purpose is to help individuals gain independence from addictive behavior and lead meaningful and satisfying lives," said Farmer.
Visit smartrecovery.org for more information or to find a SMART meeting in your area.
Medical Disclaimer:
DrugRehab.com aims to improve the quality of life for people struggling with a substance use or mental health disorder with fact-based content about the nature of behavioral health conditions, treatment options and their related outcomes. We publish material that is researched, cited, edited and reviewed by licensed medical professionals. The information we provide is not intended to be a substitute for professional medical advice, diagnosis or treatment. It should not be used in place of the advice of your physician or other qualified healthcare provider.
Author

Matt Gonzales is a writer and researcher for DrugRehab.com. He graduated with a degree in journalism from East Carolina University and began his professional writing career in 2011. Matt covers the latest drug trends and shares inspirational stories of people who have overcome addiction. Certified by the Centers for Disease Control and Prevention in health literacy, Matt leverages his experience in addiction research to provide hope to those struggling with substance use disorders.
@bymattjgonzales
View Sources
---