August 2, 2017
Update: This story was originally published on August 2. On August 8, President Donald Trump spoke about the opioid crisis at a press conference in Bedminster, New Jersey. At the time, the president declined to declare a national health emergency.
On August 10, Trump told reporters he is declaring the drug epidemic a national emergency. He said the White House was working on paperwork to make an official declaration.
"The opioid crisis is an emergency, and I'm saying officially, right now, it is an emergency," Trump told reporters. "It's a national emergency. We're going to spend a lot of time, a lot of effort and a lot of money on the opioid crisis."
The original story is below.
In an interim report, the President's Commission on Combating Drug Addiction and the Opioid Crisis asked President Donald Trump to declare a national emergency.
The commission was created by executive order about two months after Trump was inaugurated. Its mission was to study the scope and effectiveness of the federal government's response to the drug epidemic and to develop recommendations to solve the problem.
In a letter to the president on July 31, the members of the commission told Trump that he had the authority to follow the commission's "first and most urgent recommendation."
"Declare a national emergency under either the Public Health Service Act or the Stafford Act," the commission members wrote. "With approximately 142 Americans dying every day, America is enduring a death toll equal to September 11th every three weeks."
Public health emergencies are most commonly declared after natural disasters. However, the Zika outbreak in Puerto Rico was declared a public health emergency in 2016, and the flu was declared a national emergency in 2009, according to CNN.
"We prescribed enough opioids in this country in 2015 to have every adult in America fully medicated for three weeks," commission chair Chris Christie said in a CNN interview. "It's out of control."
More than 47,000 people died from drug overdose deaths in 2014, and 52,404 people died from drug overdoses in 2015, according to the Centers for Disease Control and Prevention. Opioids accounted for more than half of those deaths each year. The drugs are found in certain prescription pain relievers, such as OxyContin and Vicodin, and illicit drugs such as heroin.
A public health emergency declaration under the Public Health Service Act expands the power of the secretary of health and human services to make decisions to combat the emergency. It would allow the executive branch to adjust policies to expand access to treatment and increase funding for public health programs.
"It is not only critical that the Federal Government provide sufficient resources to prevent and combat this disease; it must also provide the easiest pathway for private providers and local and state governments to achieve success," the commission members wrote.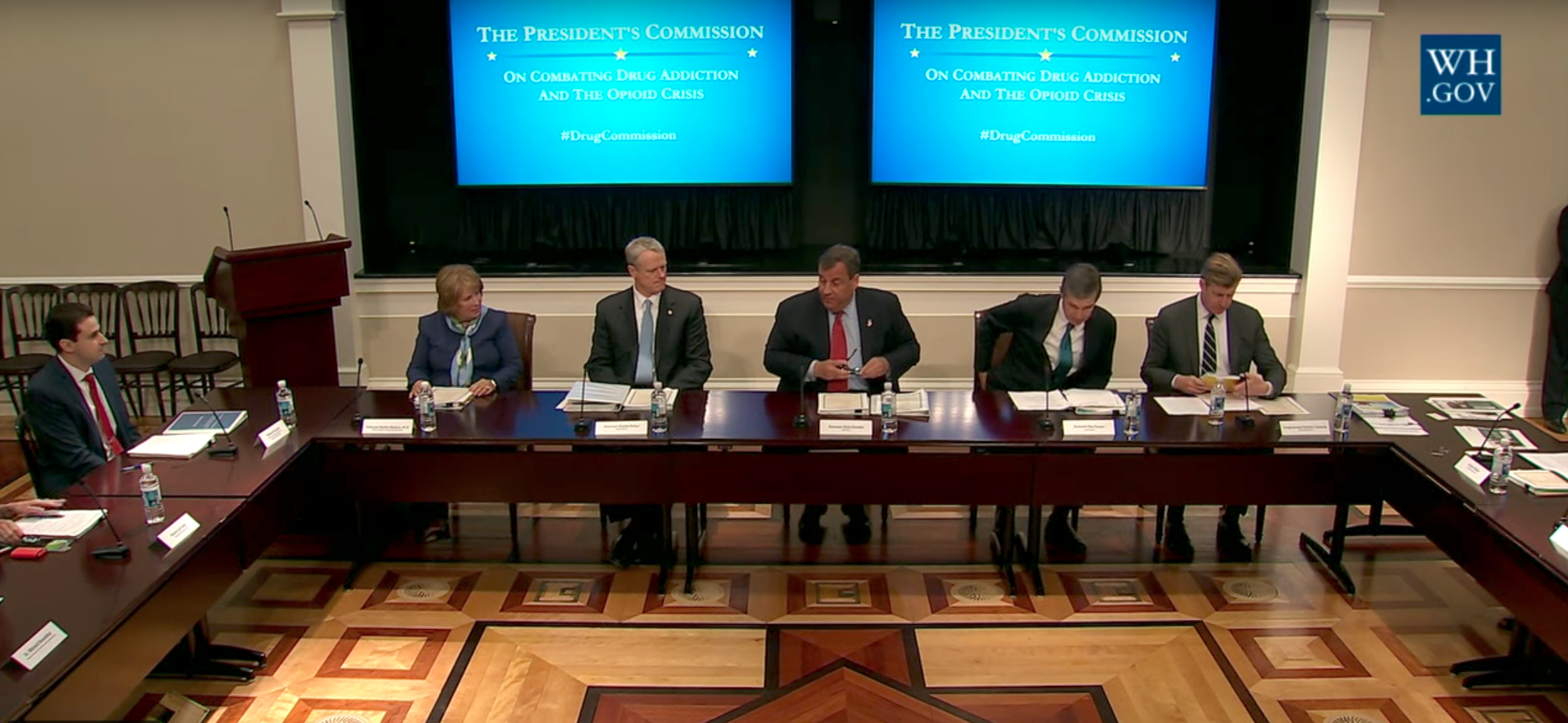 Commission on Combating Drug Addiction and the Opioid Crisis Recommendations
President Trump established the commission and appointed New Jersey Gov. Chris Christie to chair the commission on March 29. However, members of the commission weren't appointed until May 10. The commission's first public meeting was held at the White House on June 16.
"This is clearly one of the president's top priorities, to make certain that we address this scourge of the opioid crisis and addiction that has run across this land in ways far and wide that so many could never ever have dreamed about at the scale that we're talking about right now," Secretary of Health and Human Services Tom Price said at the meeting.
Those who spoke at the meeting talked about increasing access to naloxone, ensuring treatment availability, establishing safe and effective pain management protocols, and determining how the opioid epidemic got to this point.
Increase treatment capacity by eliminating barriers within Medicaid
Mandate prescriber education initiatives
Establish and fund an incentive to increase access to medication-assisted treatments
Equip all law enforcement with naloxone
Prioritize funding for law enforcement programs to disrupt fentanyl trafficking
Fund interstate data-sharing programs to track prescription drugs
Regulate privacy laws related to addiction to allow health providers to access a patient's substance use disorder history
Enforce parity laws that require health plans to offer similar benefits for mental health and physical diseases
Many of the recommendations were similar to those outlined in former Surgeon General Vivek Murthy's November 2016 report on alcohol, drugs and health.
Shortly after his inauguration, the president told the Major Cities Chiefs Police Association that he would expand access to treatment and fight drug trafficking. Trump said he'd build a wall to combat drug trafficking and fight drug cartels that are afflicting violence on American communities.
However, the commission's interim report did not recommend building a wall, and it provided few law enforcement strategies for combatting addiction. The majority of recommendations emphasized a public health approach.
As of August 2, Trump had not publicly responded to the report or indicated whether he would declare a national emergency. In a CNN interview, the commission's chair implied that the federal government had the power to solve the problem.
"The good news is that we think the president and Congress have tools available to them, and working with the states, to be able to lessen this crisis significantly," Christie said. "But we have a long way to go. … We hope that the president declares a public health emergency in this country which will allow us to be very, very aggressive about this problem."
Medical Disclaimer:
DrugRehab.com aims to improve the quality of life for people struggling with a substance use or mental health disorder with fact-based content about the nature of behavioral health conditions, treatment options and their related outcomes. We publish material that is researched, cited, edited and reviewed by licensed medical professionals. The information we provide is not intended to be a substitute for professional medical advice, diagnosis or treatment. It should not be used in place of the advice of your physician or other qualified healthcare provider.
Author

Chris Elkins worked as a journalist for three years and was published by multiple newspapers and online publications. Since 2015, he's written about health-related topics, interviewed addiction experts and authored stories of recovery. Chris has a master's degree in strategic communication and a graduate certificate in health communication.
@ChrisTheCritic9
View Sources
---