June 27, 2017
Christopher Johns was a loving individual. He was a good student and an intelligent person. His mother, Lisa Cote Johns, remembers him fondly.
"He was always so funny, even as a little kid," Lisa told DrugRehab.com. "He was the class clown; he played jokes on people all the time."
Even for a mother, Lisa knew a surprising amount about her son. She knew what he liked and what he didn't like.
"He loved the outdoors," said Lisa. "He loved fresh fruit, especially peaches."
You can tell their bond was special. He often told her how she was the most important person in the world to him.
The two did so much together. Lisa never missed one of Chris's youth baseball games. They would shop, write stories and even rap songs together.
Chris battled depression during his childhood. He decided in high school to become a child psychiatrist to help other young people who struggled with mental illness. He was goal-oriented and motivated. He had all the personality traits a mother could want in her son.
At the end of his junior year of high school, Chris had a severe appendix attack, which put him in the hospital for an extended period of time. During that time, the doctors gave him opioids for his pain.
When he was discharged, Chris left with a 10-day prescription of OxyContin for postoperative pain.
"As a mom, the doctor gives you this pill and says, 'Give your son this pill; he won't be in pain.'" Lisa said during an assembly at Next Step Village in Orlando.
Chris received five days of morphine in the hospital and 10 days of OxyContin pills every four hours at home. He went through opioid withdrawals when his prescription ran out, which was the same day he was supposed to return to school. Lisa checked on him that morning.
"I get up, and he's lying on the bathroom floor," said Lisa. He was vomiting and had diarrhea. He was in pain, crying and screaming.
Lisa, who had no idea what her son was experiencing, immediately took Chris back to the hospital. The doctors ran tests and found nothing wrong with him. They said Chris was simply healing slowly and sent him home with another 10-day prescription of OxyContin.
Under the doctors' orders, Lisa gave Chris a pill every four hours, and it always helped. At the end of his 10-day prescription, he experienced the same withdrawal symptoms: pain, vomiting and diarrhea.
"The doctors never told me that [opioids] were addictive," said Lisa. "You want to know why? The pharmaceutical companies never told them."
Chris detoxed at his home over the next week or so and finally returned to his senior year of high school. He had missed 40 school days because of his medical condition.
Shortly before homecoming, Chris attended a bonfire party with his classmates. They were drinking and partying, and many kids were drunk. One of Chris's friends accidentally hit him in the face with a fire log and broke his nose.
Chris was forced to have another emergency surgery, which meant more morphine and another 10-day OxyContin prescription. He was at the beginning of a vicious cycle of opioid addiction.
While recovering, he missed five months of school. In addition to the pain from his surgeries and injuries, Chris became depressed from isolation.
Lisa says that during this time, Chris figured out he could numb his physical and mental pain by taking his pills. Over time, following doctors' orders, Chris developed an opioid use disorder.
When he ran out of his prescription, he started buying pills on the streets. His bright future dimmed rapidly. He did not graduate with the rest of his class and had to attend summer school to finish his high school credits.
His parents enrolled Chris in the local community college to help him get back on his feet. Lisa found out about a month after the semester started that her son was not even attending classes.
Lisa said Chris had a good job for someone his age, but he lost it and his income. He started stealing money around the house shortly after that to fund his opioid addiction. When Lisa confronted him about what was going on, Chris admitted that he was addicted to opioids.
"I said, 'Oh, thank God, it's only pain pills. It's not cocaine,'" said Lisa. "I had no idea."
A Decade-Long Battle
Chris went to a rehab facility for seven months. Lisa said he did well after treatment, but the facility he attended did not provide the quality of care she expected he would receive.
He returned home to Connecticut. It was not long before he relapsed and overdosed in the family's home. Lisa found him and performed CPR until paramedics arrived and revived Chris.
This was the beginning of a 10-year cycle. Chris spent this time in and out of rehab and sober living facilities. He ended up homeless. He was in jail for another period of time.
He tried so hard to get well, to reach recovery, but he always eventually relapsed. The grasp opioids had on him was simply too strong.
Chris had already been revived from an overdose three times when he told Lisa that he thought opioids would kill him.
"He said, 'Mom, I know I'm going to die before you,'" said Lisa. "He said, 'Mom, I've come to terms with it.'"
Lisa remembers her last day with Chris vividly. It was a warm September day for Connecticut. She and Chris bought all the ingredients to make Lisa's famous grinders — Chris's favorite — and had a picnic on the beach.
It was windy, and some of the food blew off the table. Lisa says that a flock of seagulls took advantage of the high wind and began stealing their food. She and Chris laughed as they tried to protect their lunch from the determined birds. It was a great day for Lisa and her son.
It was also the last meal they would ever eat together.
On a morning like any other, Lisa tried to contact Chris, who lived in a sober home in town. But he did not answer.
Every mother of someone with a substance use disorder knows what that means: her greatest fear may have come true. She rushed to the sober house.
Chris's door was locked. Lisa couldn't get in, so she was forced to call her friend who was a police officer.
They found Chris when they broke down the door. He had overdosed on heroin and died. Lisa watched as the paramedics brought his body out of the sober home.
She had done everything she could to help Chris reach recovery, but she was not an expert in addiction treatment. She was simply a mom who wanted to save her son.
"The hardest part was watching and not knowing what to do," said Lisa. "Now I know there's a lot I could have done."
She now works every day to save other moms from the pain of losing children to addiction.
Getting the Right Treatment
Lisa says Chris never got the treatment he needed to overcome his opioid use disorder. The quality of treatment and support available in Connecticut was lacking.
After Chris's death, Lisa learned that a combination of treatment and continued support is the key to long-term sobriety. She learned about the link between mental health and substance abuse and how important it is to treat mental health and substance use disorders together.
While struggling with the loss of Chris, Lisa began thinking of the kids in Connecticut — sons, daughters, loved ones — who still needed help. She knew many did not have the resources needed to find assistance.
She felt a connection to these individuals. Something inside of her said she could not let what happened to her son happen to them.
She had to get loud. She had to be the voice of her community.
Community Speaks Out
After Chris died, Lisa linked up with Tammy de la Cruz, a mother whose son was overcoming opioid addiction. Together, they decided to take on opioid addiction in their town and do whatever they could to break the addiction cycle. With the help of Tammy's son, Joey Gingerella, they created Community Speaks Out.
It started more than two years ago as a small community organization that helped people in Connecticut find treatment centers with open beds. It has since blossomed into a nonprofit organization that offers assistance with almost every facet of the recovery journey.
"It started out as raising awareness," said Lisa. "It turned into helping people find a program or detox."
The organization's services continued to expand. It now offers support groups and help with interventions and rehab intake.
In addition to assistance with recovery, Community Speaks Out is focused on substance abuse education and prevention. It routinely holds forums featuring psychiatrists, psychologists, drug counselors, therapists, pain-management doctors, parents of children with substance use disorders, paramedics and state medical examiner officials.
Lisa, who was a teacher in Connecticut for decades, also became a certified drug and alcohol instructor. She can teach health classes anywhere in Connecticut. She speaks to children as much as she can about the dangers of initiating substance abuse.
"We've spoken to tens of thousands of children," said Lisa. "We go into middle schools and high schools and do assemblies."
Planning charity events to raise awareness and funds for the organization
Advocating for legislation change
Holding candlelight vigils for overdose victims
Leading interventions for those actively using drugs or alcohol
Arranging transportation for individuals to go to treatment
Providing relapse prevention support
One of Lisa's main goals is getting people with substance use disorders into treatment. To her, that is the first step toward saving a life.
Community Speaks Out has helped more than 200 people find rehab treatment in its two years of operation and was a leading advocate for legislation to set a maximum limit of seven days for opioid prescriptions. The law passed in July 2016.
The organizations has expanded its reach beyond Connecticut. Community Speaks Out frequently sends people to treatment centers outside of the state and assists people in need who live in other parts of the country.
Lisa says that another priority is improving the scope of treatment in Connecticut. One of the biggest problems for those who need treatment in the state is the lack of available beds in treatment centers, especially publicly funded ones.
She is adamant that long-term, continued support is the most effective means of ensuring lasting sobriety after treatment
"It's key. There're no ifs, ands or buts," said Lisa. "You can't do it any other way. It's not possible."
New Plans, New Action, Old Problem
Community Speaks Out is currently in the midst of rolling out new plans to combat the
Opioid Action Plan
Community Speaks Out is a member of the New London Opioid Action Team, which recently met with Sen. Richard Blumenthal, D-Conn., to discuss efforts in combating opioids in Connecticut.

The action team is offering a three-part plan focused on attacking addiction from multiple fronts. It will take the plan to the state capital in the hope that legislators will make it a state law.

The main goal is to improve the quality of treatment in Connecticut and expand access to rehab for anyone who needs it. The action team wants to establish a network of care that allows individuals struggling with drug or alcohol addiction to get into treatment on demand. The network would also provide people in recovery and their families access to continued support after treatment.

The New London Opioid Action Team also wants to prevent injection drug use and the resulting spread of infectious diseases in the community. One action plan effort is to create a needle exchange program to stop HIV and other diseases from infecting more individuals in the community.

The team is working to place recovery coaches in emergency rooms at Lawrence + Memorial Hospital in New London as well. These coaches would provide specialized support to individuals who survive overdoses.

The team hopes to secure $225,000 in funding to hire a project coordinator. The money would also go toward the creation of a digital referral system and a prevention and education campaign.

After hearing the plan, Blumenthal applauded the work of the team and its commitment to helping the community.

"I'm very impressed by the quality and amount of thinking that has gone into this, and I think it could be a model for the state," Blumental said during a meeting with the action team at the Lyman Allyn Art Museum.

Lisa says that if legislators adopt the plan for the rest of the state, people will be able to detox and find treatment quickly.

Many people with substance use disorders in Connecticut get into a detox facility but have no access to inpatient treatment afterward. Subsequently, they end up in the same risky environment, increasing the likelihood of having a relapse and starting the addiction cycle all over again.

"This is why we created this action plan," said Lisa. "Once somebody is detoxed, depending on insurance, the waiting list to get into a program could be anywhere from two weeks to 10 weeks."

Lisa believes making this plan a law would end the immense wait times and give people who are ready for treatment the care they need.

Community Speaks Out has also sponsored legislation to require regulation of sober living homes and expanded access to naloxone, an opioid overdose antidote.
Sober Living Certification
Community Speaks Out is launching Connecticut's first voluntary certification program for sober home operators in hopes of improving the quality and legitimacy of these critically important facilities. Lisa says sober living homes in Connecticut are unregulated under current conditions and are often hotbeds for overdoses.

To improve the sober home conditions in Connecticut, Lawrence + Memorial Hospital gave Community Speaks Out a $5,000 grant.
With the grant money, the organization brought officials from the National Alliance for Recovery Residences to certify the team to register sober living homes in Connecticut.

"We had somebody from Massachusetts come down and train four of us through Community Speaks Out," said Lisa. "We're the first four people in the state of Connecticut to be able to train, instruct and certify sober homes."

Community Speaks Out held the first training session for New London sober living homes on June 19. Lisa thinks this could be the first step toward tightening regulations for sober living facilities and making sure they provide the proper environment for residents.
Community Speaks Out 5K Fundraiser
Raising operational funds is important to carrying out the nonprofit's mission of providing as much care and assistance as possible to those with substance use disorders.

Community Speaks Out held a 5K race in May to raise money to support the organization's goals. It will use these funds for a number of efforts, including providing scholarships for treatment to those in need.

Lisa says the money raised from the 5K allows Community Speaks Out to pay for treatment and continued supportive care for individuals who do not have insurance.
Substance abuse treatment
Airfare and transportation to treatment
Sober living facility costs
Basics for living such as clothes and rent
Food for the first several weeks of recovery
To Lisa, anything the organization can do to help someone overcome a substance use disorder is well worth the money.
"Prescription Medication Is the Same as Heroin"
Lisa's main message resonates with many mothers who have lost their child to opioid painkillers.

"Prescription medication is the same as heroin," she said.

She tells this to people all the time. She tells mothers, children, grandparents and anyone who will listen.

She says if more parents learn this and know what opioid prescriptions can lead to, more parents will resist giving them to their kids.

Lisa wants to stop other mothers from making the same mistake she made.

"My son was screwed right from the start, and I gave it to him," said Lisa. "I gave my son that prescription because my doctor told me to. They didn't know it was addictive because Big Pharma told them that it wasn't, so they prescribed it crazily. They gave it out like candy."
Extending the Reach of Community Speaks Out
Lisa says that Community Speaks Out is not done growing. She hopes the organization can spread its reach with the help of additional funding and grants. That money would allow the organization to get a permanent building and some support staff.

"We need a facility. We need the grants to hire people to work for us, like secretaries and admins," said Lisa. "We need admins to do the little parts of the work because we're getting overwhelmed. We need them for writing thank you letters, making appointments, scheduling school assemblies and things like that."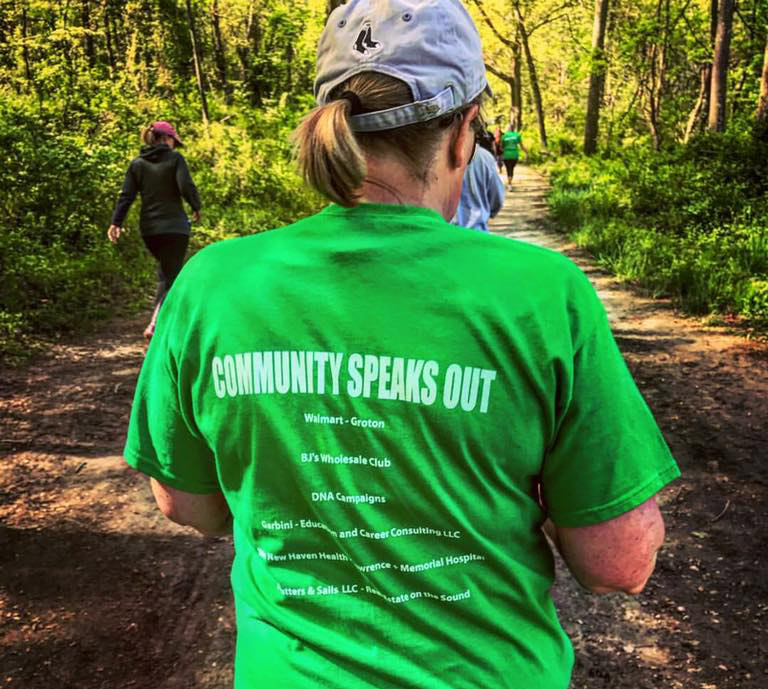 Lisa says that getting out and doing more interventions for members of the community is another focus for the future. She also hopes to be able to provide support for those who relapse and are trying to stay sober.

"We say, 'Please call us if you relapse. We're still here to support you,'" said Lisa.

She wants to expand the organization's school prevention program to elementary school students. She believes that starting education early is the key to prevention.

Lisa will do anything and everything she can to help those with substance use disorders. She says she does not have a choice. She has to help them.

This is Lisa's way of getting loud about addiction. This is her way to speak out for her son.


Medical Disclaimer: DrugRehab.com aims to improve the quality of life for people struggling with a substance use or mental health disorder with fact-based content about the nature of behavioral health conditions, treatment options and their related outcomes. We publish material that is researched, cited, edited and reviewed by licensed medical professionals. The information we provide is not intended to be a substitute for professional medical advice, diagnosis or treatment. It should not be used in place of the advice of your physician or other qualified healthcare provider.


Author

Trey Dyer is a writer for DrugRehab.com and an advocate for substance abuse treatment. Trey is passionate about sharing his knowledge and tales about his own family's struggle with drug addiction to help others overcome the challenges that face substance dependent individuals and their families. Trey has a degree in journalism from American University and has been writing professionally since 2011.
View Sources
---
Go To: