February 19, 2016
A new study on electronic cigarettes produced worrisome results, finding the products aren't as safe as marketers advertise. Their safety compared to tobacco cigarettes is still a matter of debate.
Researchers writing in the Journal of Oral Oncology found the vapor from e-cigarettes killed human cells and damaged human DNA in laboratory experiments.
"Although e-cigs have skyrocketed in popularity and have been widely marketed as a safe alternative to traditional cigarettes, their safety and long-term effects have remained shrouded in controversy."
The researchers attempted to compare e-cigarettes containing nicotine to e-cigarettes without nicotine and to traditional cigarettes. They found e-cigarettes containing nicotine damaged cells more than e-cigs without nicotine, but both caused considerable damage.
"Our study strongly suggests that electronic cigarettes are not as safe as their marketing makes them appear to the public," the authors wrote in the journal article.
In another statement, one author of the study, Dr. Jessica Wang Rodriguez, claimed: "Based on the evidence to date, I believe they are no better than smoking regular cigarettes."
Dr. Linda Bauld, the Director of the U.K.'s Centre for Tobacco and Alcohol Studies claimed the authors could not make a reliable comparison to tobacco cigarettes.
"The authors could not directly compare the cigarette and e-cigarette treated cells, because the cigarette treated samples all died within 24 hours," Bauld wrote in The Guardian.
Previous studies found the flavor chemicals in e-cigarettes could deliver harmful particles, including heavy metals, to the lungs. A Norwegian Institute of Public Health risk assessment determined the nicotine in e-cigs most likely produced harmful effects similar to cigarettes.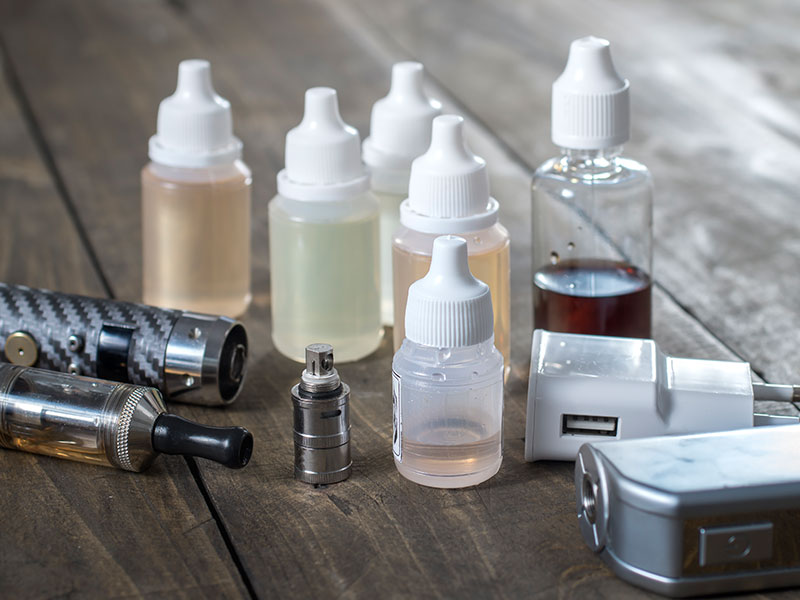 The e-cigarette industry has grown rapidly in the past decade, generating an estimated $3.5 billion in annual sales without being subject to government regulation.
E-cigarettes Are Not Required To Be Tested, Regulated or Labeled
Many consumers believe products sold in grocery stores or supermarkets are tested and safe. That simply isn't true.
Potential risks
How much nicotine is inhaled
How many other potentially harmful chemicals are inhaled
Whether there are any benefits associated with e-cigs
The biggest potential dangers under investigation by researchers are the flavor chemicals in the products. More than 7,700 flavors are available and many are well-known toxins, according to The Washington Post.
More than 7,700 e-cigarette flavors are available and many are well-known toxins.
A 2015 study published in the Journal of Nicotine and Tobacco Research found two chemicals associated with respiratory diseases were "found in a large proportion of sweet-flavored EC liquids, with many of them exposing users to higher than safety levels."
Three years earlier, the Flavor and Extract Manufacturers Association had warned the public of chemicals that are safe in food but risky when inhaled.
When we saw flavors were being used in e-cigarettes, we wanted to put the word out right away that it's a possibility that flavors being inhaled through an e-cigarette could also be harmful. Flavors are not made to be inhaled.
Other studies found cinnamon-flavored e-cigs contain chemicals that cause sore throats and mouth sores, and 30 other flavors — including cotton candy, bubble gum and French vanilla — contain a chemical that causes airway constriction and respiratory irritation.
Companies get away with including these dangerous chemicals and flavorings in e-cigs because there isn't a governing body in charge of regulating them.
The FDA, which regulates the tobacco industry, has proposed a rule that forbids the industry from making unproven health claims and marketing to youth. The FDA currently prohibits flavors other than menthol in tobacco cigarettes, so it could limit the number of flavorings in e-cigs if it gains regulatory authority.
For years, the industry promoted e-cigs as safe alternatives to traditional tobacco products and as a way to help users quit smoking. Studies on teens reveal the products might be doing the opposite.
Teens Using E-Cigarettes More Likely to Use Tobacco
A study of more than 2,300 Hawaiian teenagers in six different high schools revealed teens who try electronic cigarettes are more likely to begin smoking traditional cigarettes later in life than teens who don't try e-cigs.
"Adolescents who use e-cigarettes are more likely to start smoking cigarettes. This result together with other findings suggests that policies restricting adolescents' access to e-cigarettes may have a rationale from a public health standpoint."
The researchers surveyed the teens in 2013 when they were ninth and tenth grade. One year later, the researchers surveyed the teenagers again to learn how their use of cigarette products changed. They found teens who reported vaping in the first survey were three times more likely to be smoking traditional cigarettes in the second survey.
"There has been a very vocal, somewhat nasty debate going on for several years now about whether e-cigarettes are harmful or helpful," lead author Thomas Wills told MedPage Today. "This debate has largely been going on in the absence of scientific evidence. We now have convergent findings suggesting that teens who vape are more likely to smoke cigarettes."
An estimated 10 to 20 percent of middle and high school students across the country tried e-cigs from 2013 to 2014.
Other studies found teens who tried e-cigs were more likely to try tobacco products, but this study was the first to examine teens for at least one year.
An estimated 10 to 20 percent of middle and high school students across the country tried e-cigs from 2013 to 2014, compared to one to three percent from 2010 to 2011, according to the study. That's not surprising, considering more than 70 percent (18 million) middle and high school students were exposed to e-cig ads in 2014, according to the Centers for Disease Control and Prevention.
There are other alternatives to e-cigs for people trying to stop smoking.
A recent study of nicotine-replacement patches found smokers who received patches in the mail were more than twice as likely as smokers who didn't receive patches to quit smoking within six months. All of the participants in the study published in the Journal of the American Medical Association had shown previous interest in quitting before the study began.
Preventing youth from smoking by prohibiting the e-cig industry — like the tobacco industry — from advertising to them would help solve the problem altogether.
Medical Disclaimer:
DrugRehab.com aims to improve the quality of life for people struggling with a substance use or mental health disorder with fact-based content about the nature of behavioral health conditions, treatment options and their related outcomes. We publish material that is researched, cited, edited and reviewed by licensed medical professionals. The information we provide is not intended to be a substitute for professional medical advice, diagnosis or treatment. It should not be used in place of the advice of your physician or other qualified healthcare provider.
Author

Chris Elkins worked as a journalist for three years and was published by multiple newspapers and online publications. Since 2015, he's written about health-related topics, interviewed addiction experts and authored stories of recovery. Chris has a master's degree in strategic communication and a graduate certificate in health communication.
@ChrisTheCritic9
View Sources
---