Looking for rehab in your area?
Connect with us today and discover addiction treatment options near you.
Get Help Now
Georgia Substance Abuse Trends
Alcohol and marijuana are the most common substances of abuse in Georgia, and cocaine and methamphetamine are the most common hard drugs in the state. But heroin and other illicit opioid use has been increasing in recent years, leading to a growing number of drug overdose deaths in the Peach State.
Drug Overdose Deaths in Georgia:
The rate of drug overdose deaths in Georgia increased by 10.2 percent between 2013 and 2014 and by 6.7 percent between 2014 and 2015, according to the Centers for Disease Control and Prevention.
Opioid Use in Georgia
Like other states, prescription opioid misuse has increased recently in Georgia. The rise has led to an increasing number of deadly opioid overdoses, according to the CDC. Deaths involving synthetic opioids other than methadone, such as tramadol and fentanyl, increased by nearly 65 percent between 2014 and 2015. Deaths from heroin increased almost 38 percent.
Heroin deaths have dramatically increased in Georgia over the last five years, Vernon Keenan, director of the Georgia Bureau of Investigation, said at a 2015 summit in Atlanta. Today heroin users come from all backgrounds, including the affluent and well educated. People who have become addicted to painkillers are finding heroin is easily accessible and inexpensive.
Deaths from natural opioids, such as morphine and codeine, and semisynthetic opioids, including oxycodone and hydrocodone, grew by 10 percent from 2014 to 2015, but methadone deaths decreased slightly.
Opioid overdose deaths in Georgia
between 2014 and 2015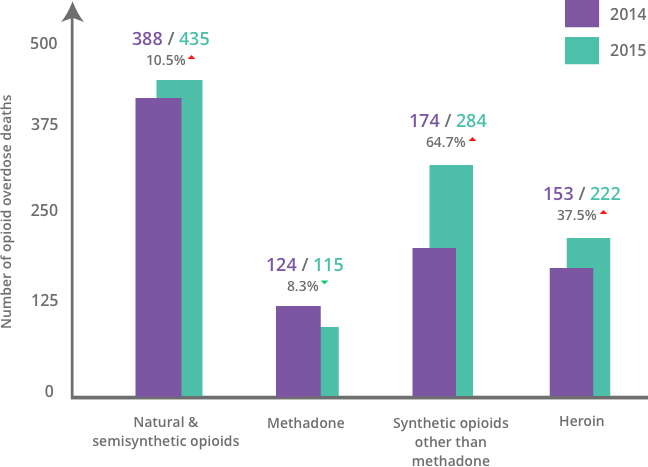 At the summit, Cobb County Deputy Chief Assistant District Attorney Jason Saliba said a new heroin trafficking organization was flooding the state with heroin.
The source is now the Mexican cartels, Saliba said. "The heroin is coming with all the other drugs across the Mexican border, and it's absolutely killing us."
Georgia Student Health Survey
Alcohol, marijuana and electronic vapor products are the most commonly abused drugs by Georgia high schoolers, according to the 2015-16 Georgia Student Health Survey. Less than 3 percent of high school seniors said they used prescription painkillers, sedatives or stimulants without a prescription. Less than 1 percent said they used methamphetamines.