Part of the nonprofit Al-Anon Family Groups, Alateen assists teenagers who struggle with a loved one's alcohol addiction. Members typically attend Alateen meetings because they are too invested in someone else's alcoholism and need to learn healthy coping behaviors to separate themselves.
According to Sergio Zuniga, a group services assistant at Al-Anon Family Group Headquarters, developing healthy coping skills is vital for Alateen members.
"As the name implies, Alateen is designed for members in their teens whose lives have been affected by the alcoholism in a family member or close friend," Zuniga told DrugRehab.com. "Alateen is not a recovery program where young people cope with their own addictions, but rather learn to deal with the effects of someone else's drinking on their lives."
Group meetings allow teenagers to freely express themselves and share their experiences of dealing with an alcoholic.
Alateen encourages members to:
Share their feelings
Talk about their struggles
Learn healthy coping skills
Promote a supportive environment
Understand the principles of the Al-Anon program
Learn about the 12 Steps and Alateen's Twelve Traditions
Alcoholism can be destructive to the family unit. The disease often causes people to forego the basic needs of their family and walk away from their responsibilities. The alcoholic's partners or family members often have to shoulder these duties, adding significant stress to their lives. Research shows that the wives of alcoholics commonly experience psychological problems, including anxiety, depression and reduced self-confidence.
Through sharing and understanding, Alateen members learn how to prevent their loved one's alcoholism from engulfing them.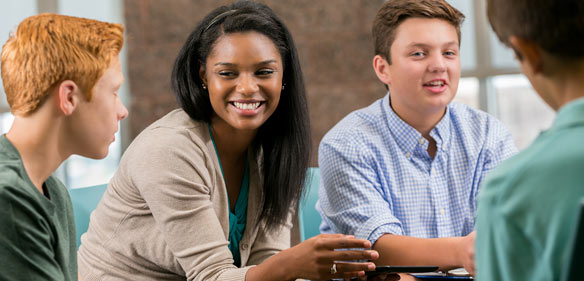 Alateen's Twelve Traditions
Our common welfare should come first; personal progress for the greatest number depends upon unity.

The first tradition encourages teenagers to promote community and group healing to help them achieve their personal goals.

For our group purpose there is but one authority — a loving God as He may express Himself in our group conscience. Our leaders are but trusted servants; they do not govern.

In line with the values of Alcoholics Anonymous, the second tradition acknowledges that a higher power is in control, expressing Himself through speakers and leaders.

The only requirement for membership is that there be a problem of alcoholism in a relative or friend. The teenage relatives of alcoholics, when gathered together for mutual aid, may call themselves an Alateen Group provided that, as a group, they have no other affiliation.

Alateen groups require only that members have no other affiliation as a group and know a friend or relative with an alcohol use disorder.

Each group should be autonomous, except in matters affecting other Alateen and Al-Anon Family Groups or AA as a whole.

Alateen groups should function independently except in cases where other Al-Anon Family Groups are involved.

Each Alateen Group has but one purpose: to help other teenagers of alcoholics. We do this by practicing the Twelve Steps of AA ourselves and by encouraging and understanding the members of our immediate families.

Through the 12 Steps, Alateen groups seek to equip teenagers with tools to understand and cope with the alcoholic in their lives.

Alateens, being part of Al-Anon Family Groups, ought never endorse, finance or lend our name to any outside enterprise, lest problems of money, property and prestige divert us from our primary spiritual aim. Although a separate entity, we should always cooperate with Alcoholics Anonymous.

Alateen groups should remain focused on their spiritual goal of healing and not be distracted by outside enterprises or financial problems. Alateen should always collaborate with AA despite being a separate organization.

Every group ought to be fully self-supporting, declining outside contributions.

All Alateen groups should be financially independent and refuse contributions from outside parties.

Alateen Twelfth Step work should remain forever nonprofessional, but our service centers may employ special workers.

Alateen should provide nonprofessional support to members free of charge; however, service centers may hire professionals in special circumstances.

Our groups, as such, ought never be organized; but we may create service boards or committees directly responsible to those they serve.

Although Alateen promotes self-sufficiency, members may set up service boards or committees to help organize groups.

The Alateen Groups have no opinion on outside issues; hence our name ought never be drawn into public controversy.

Alateen groups keep their work within meetings and express no opinions on issues not concerning them to avoid public disagreement.

Our public relations policy is based on attraction rather than promotion; we need always maintain personal anonymity at the level of press, radio, films and TV. We need guard with special care the anonymity of all AA members.

Alateen discourages self-promotion and focuses on protecting the identity of recovering alcoholics attending AA meetings.

Anonymity is the spiritual foundation of all our Traditions, ever reminding us to place principles above personalities.

Anonymity is paramount to Alateen; the 12th tradition focuses on promoting principles of the group over people's personalities.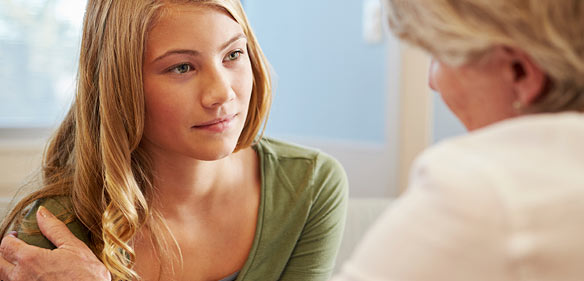 How Does Alateen Help Teenagers?
Adolescents struggle with a wide range of personal issues. Dealing with a loved one's drinking problem only adds to the stress of being a teenager. A friend or family member's alcohol problem may have repercussions on a teen's life. Those who need help can attend Alateen meetings to share their experiences with other teens going through the same situations.
On Alateen's website, a male teenager said he originally thought Alateen meetings were simply useless counseling sessions that would not help him. But after three or four meetings, he started seeing the value of Alateen.
Know Someone Who Needs Help?
Get a personalized recovery plan.
Get Help Now
"I started realizing, hey, these are good tools — I could start using these to make my home situation better. When my dad is having an issue and is freaking out and yelling at me, I can detach and not get into that fight," the teenager said in a video for Alateen.
Another teenager whom Alateen interviewed said that she felt safe at meetings because she could express her feelings and people would not judge her.
Testimonials in Alateen Talk, the organization's newsletter, show that the meetings also give teens valuable perspective.
"In that first session, I obtained comfort by listening to Alateen members share their experience, strength and hope," one teen told Alateen Talk. "I also learned that I was not the only one struggling."
Several other adolescents mentioned the numerous benefits of Alateen in an issue of Alateen Talk. Some said Alateen saved their lives by providing the physical and emotional support they weren't getting from their families. Others mentioned that the group gave them hope and taught them good coping mechanisms to deal with the alcoholics in their lives.
Alateen has also helped members improve their communication skills, deal with their anger issues and express their feelings without emotionally harming themselves.
What Happens at an Alateen Meeting?
Alateen encourages members to talk about their experiences with a problematic drinker. Participants typically share their feelings with others and talk about how Alateen has helped them cope with their situations.
Although the meetings primarily consist of teenagers, adults act as Alateen Group Sponsors. These members help teenagers stay focused on the Alateen program.
Through meetings, teenagers in the program learn that alcohol addiction is a disease. They also recognize fundamental factors that will help them cope, including:
You are not at fault for your loved one's alcoholism
You can change and control only your own decisions
You can still love a person without emotional attachment to the person's alcoholism
You can have fulfilling life experiences regardless of the alcoholic's choices
Alateen hosts meetings in community centers, churches, schools and other locations. Alateen meetings are often held in the same building as other Al-Anon groups, but they are hosted in separate rooms.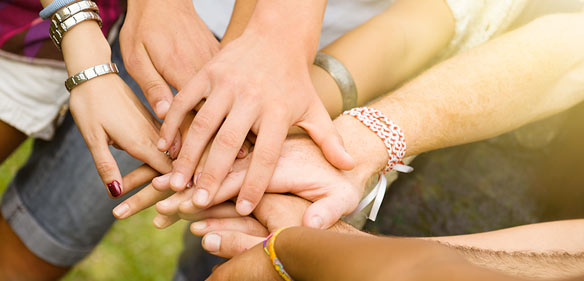 How to Join
Contact your local Al-Anon chapter for information about Alateen meetings in your community. Al-Anon encourages people to attend a meeting to discover how Alateen works.
Alateen also offers computer-based chat meetings, encouraging members from 13 to 18 years old to speak with other teenagers about their experiences with a problem drinker. Two Alateen group sponsors moderate the meetings and monitor conversations to ensure that the teens do not share personal information or improper language.
Alateen meetings are free to join.
Medical Disclaimer: DrugRehab.com aims to improve the quality of life for people struggling with a substance use or mental health disorder with fact-based content about the nature of behavioral health conditions, treatment options and their related outcomes. We publish material that is researched, cited, edited and reviewed by licensed medical professionals. The information we provide is not intended to be a substitute for professional medical advice, diagnosis or treatment. It should not be used in place of the advice of your physician or other qualified healthcare provider.
Author

Sonia Tagliareni is a writer and researcher for DrugRehab.com. She is passionate about helping people. She started her professional writing career in 2012 and has since written for the finance, engineering, lifestyle and entertainment industry. Sonia holds a bachelor's degree from the Florida Institute of Technology.
View Sources