Bush appointed the first director of the ONDCP in 1989. Bill Bennet, a Republican who served as Secretary of Education under Reagan, advocated for harsh penalties for drug offenders and was described by a 1989 Rolling Stone article as a "cowboy in the capital." He advocated for tough approaches on crime and a revamp and expansion of the criminal justice system. But he also recognized addiction as a public health issue that couldn't be solved through law enforcement alone. In 1991, Bush appointed a new ONDCP director, former Republican Gov. Bob Martinez of Florida. As governor, Martinez had been credited with stiffening penalties for drug traffickers, extending military use to combat drug trafficking and leading anti-drug efforts in the National Governors Association. Murray said you can determine a president's belief in drug policy by how he treats the ONDCP. "You look at the status of the ONDCP," Murray said. "The office director — are they powerful? Do they have the ear of the president? Are they supported? Is it a cabinet-level post?" The structure of the ONDCP changed drastically during each of the next three presidential administrations.
The Clinton Years
The Republican Party platform of 1992 continued to advocate for punishments for drug offenders and to oppose drug legalization or decriminalization.
Increased operations against drug traffickers
Reduced drug use in the military
Declining overall drug abuse
The Democrats won the oval office, though. Despite promoting the director of the ONDCP to a cabinet-level position, Murray says, President Bill Clinton reduced the office's authority. "You really see the striking effect from '79 through 1992, which I think we'd regard as very positive, then it coincides with a new administration in 1992 — Bill Clinton," Murray said. "What happens to drug policy? One of the things that Clinton did was practically eliminate the ONDCP." Murray said Clinton steeply reduced staff numbers and the office's budget, limiting the ability of the nation's authority on drug control to operate. The Republican Party condemned Clinton's approach in its 1996 platform.
"The Office of National Drug Control Policy was cut by 80 percent, and federal drug prosecutions dropped 25 percent. His Attorney General proposed to reduce mandatory minimum sentences for drug trafficking and related crimes, and his Surgeon General advocated legalization of narcotics."
"[The ONDCP] was seriously demoted and undermined, and things got out of control," Murray said. "Monitoring the Future data show a striking rise [in drug use] between 1992 and 1997, the Clinton years."
Increase prosecution and penalties for drug traffickers
Create mandatory minimums for drug-related crimes
Amplify intelligence efforts and international cooperation
Expand drug testing in every phase of the criminal justice system
Support the "toughest possible state laws" for driving under the influence
Clinton won a second term in office, and Murray credited the president, and his advisor Rahm Emanuel, with reversing course when they realized the strategy wasn't working. "Rahm Emanuel told [Clinton] he needed to put a new director into ONDCP, someone with visibility and authority, and to put some money back into rebuilding that office," Murray said. "General Barry McCaffrey became director in 1996, and very quickly that drug ascent stopped."
Republicans Gain Control
During the 1990s, it became clear that mandatory minimum sentencing laws were ineffective at reducing drug use, but Democrats and Republicans alike were hesitant to sound soft on crime. One exception was Republican Orrin Hatch of Utah, then the head of the Senate Judiciary Committee. In 1994, he told The Atlantic: "Mandatory minimums are a political response to violent crime. Let's be honest about it. It's awfully difficult for politicians to vote against them." In 1995, Republicans gained control of both houses in Congress for the first time since the '50s. The next year, Hatch sponsored the Comprehensive Methamphetamine Control Act of 1996. It also created a public health monitoring program. One year later, Rep. Rob Portman, R-Ohio, sponsored the Drug-Free Communities Act of 1997.
The Comprehensive Methamphetamine Control Act of 1996
This law established criminal penalties for trafficking of methamphetamine and precursor chemicals used to make the drug.
The Drug-Free Communities Act of 1997
This act provides grants to local organizations that promote anti-drug messages to youth.
The two laws exemplified a dual focus from Republicans in Congress on supply and demand reduction.
Rebuilding the ONDCP
By 2000, there was a clear shift in Republican views. It had been eight years since there was a Republican president, the longest gap since Nixon took office in 1969. President George W. Bush told Time in 2001 that the drug war was winnable, but it had to have a renewed emphasis on education and treatment for addicts. "A lot of the consumption is done by the addicts, and we've got to do a better job of helping people rid themselves of their habits," George W. Bush said. "Addiction does require treatment, and I think we ought to look at all sentencing laws, just to make sure that we've achieving what we want to achieve, which is winning the battle on the war on drugs." George W. Bush strengthened the ONDCP, appointing John Walters, the deputy director for supply reduction from 1991 to 1993, as the director of the office. That's when Murray joined. "When Bush comes in, he brings in John Walters," Murray said. "Walters returns and insists on cabinet status, and they rebuild the office. They do get some traction during that time period. Measuring by youth use, it starts down again. By 2007 they've achieved about 24 percent reduction in the youth use of marijuana and any illicit drug, which is fairly consequential." In 2003, Sen. Joseph Biden, D-Del., sponsored a bipartisan bill with Republican co-sponsors Sens. Chuck Grassley, R-Iowa, Orrin Hatch, R-Utah, and Strom Thurmond, R-S.C., titled the Reducing Americans' Vulnerability to Ecstasy Act. It failed in the senate, but a similar act was included in the PROTECT Act of 2003, which was sponsored by Hatch. The PROTECT Act was designed to protect children from child abuse, but it also contains a provision called the Illicit Drug Anti-Proliferation Act.
The Illicit Drug Anti-Proliferation Act of 2003
This act outlawed the lease, rent or use of a structure for the purposes of manufacturing or distributing a controlled substance. It also ordered the creation of a DEA special agent in each state who was in charge of reducing the supply of club drugs. It also authorized the use of funds to educate parents and youth about the dangers of club drugs.
The George W. Bush administration and the ONDCP's strategy on drug use reduced teenage drug use by 25 percent, and it dismantled more than 5,000 drug trafficking organizations, according to White House archives. Murray said there were a number of marijuana legalization initiatives in states such as Nevada and Arizona that the Bush administration helped defeat. George W. Bush also created the Faith-Based and Community Initiative, an effort to reduce funding barriers and increase cooperation with faith-based social services organizations.
Supported more than 200,000 people with substance use disorders
Helped more than 100,000 children of prisoners match with mentors
Provided resources for former inmates to transition to normal life
Gave more than 50,000 homeless people access to a shelter or home
The president was always a vocal supporter of faith-based initiatives because he knew first-hand that they could work.
A President in Recovery
In his many years running for political office, George W. Bush often referenced being irresponsible during his youth. Days before the 2000 election, media reports revealed that Bush had been arrested for
driving under the influence
in 1976. "I oftentimes said that years ago I made some mistakes," Bush told reporters at a press conference four days before the election. "I occasionally drank too much and I did on that night. I regret that it happened. But it did. I've learned my lesson."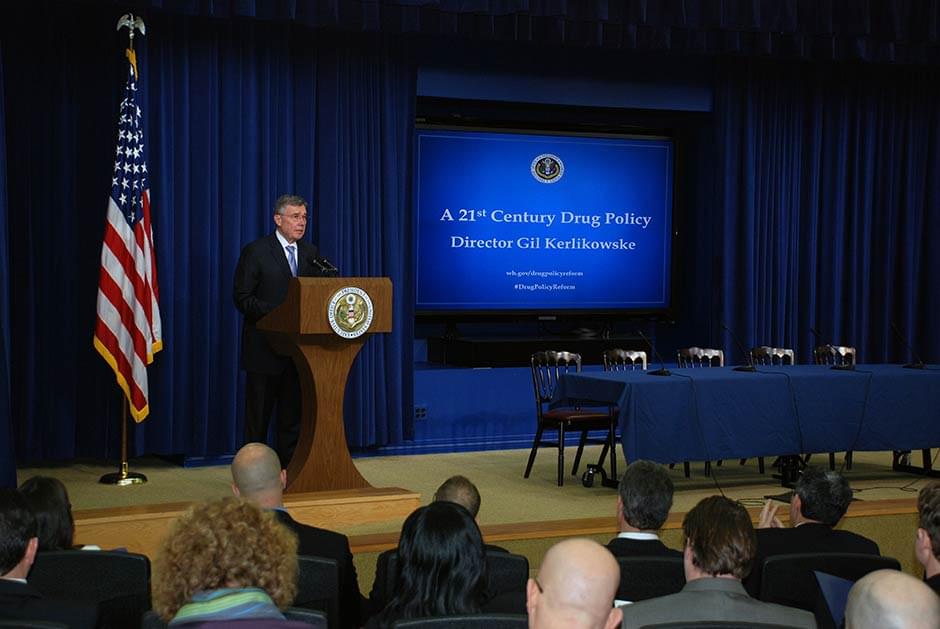 Murray credits George W. Bush with speaking honestly and openly about the dangers of substance abuse and his own experiences with alcohol. "He spoke of it in his State of the Union addresses," Murray said. "He expressed that he himself had concerns with his own substance use as a drinker. There was an expression of concern and leadership." About 10 years after the arrest, George W. Bush quit drinking cold turkey on his 40th birthday. In numerous interviews, he's said he realized drinking wasn't worth the consequences. The president credited bible study and Christian support with helping him quit. In a 2007 interview, he told ABC News's Martha Raddatz, "I doubt I'd be standing here if I hadn't quit drinking whiskey, and beer and wine and all that. … It's a difficult thing to do, which is to kick an addiction."